THE AMERICAS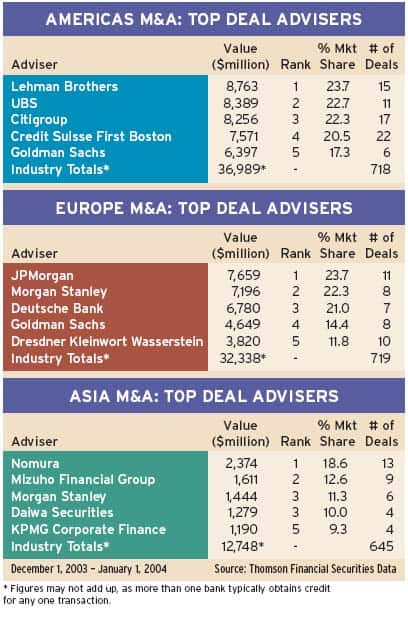 Houston-based El Paso, the leading provider of natural gas services in the US, agreed to sell its controlling interest in GulfTerra Energy Partners to raise cash as part of a broader restructuring effort to cut its debt.
El Paso is still struggling to recover from an ill-fated move into energy trading and a scandal linked to Californias energy crisis of 2000-2001.The company has charged about $700 million against earnings to settle claims that it manipulated natural-gas pipeline access to Western states during the crisis.
GulfTerra, formerly known as El Paso Energy Partners, provides naturalgas transmission and storage services.
Enterprise Products Partners, also based in Houston, definitively agreed to acquire the remaining 76% interest it did not already own in GulfTerra in a stock-swap transaction valued at $1.85 billion. Enterprise also will assume GulfTerras debt in a complex cash-and-stock deal that Thomson Financial valued at $3.85 billion.
Moodys Investors Service confirmed the ratings of El Paso and its subsidiaries with a negative outlook, following El Pasos unveiling of its turnaround plan.
According to the New York-based rating agency, the negative outlook reflects numerous challenges and the extended time frame in executing the plan and its assessment that there will not be a material improvement in El Pasos credit profile in the immediate future.
In the meantime, El Paso continues to face sinking natural-gas production, falling but still heavy spending needs, and exposure to volatile natural-gas prices,Moodys said.
The turnaround plan seeks to improve El Pasos creditworthiness by 2006 and continues many of the initiatives that the company has been implementing over the past year, including asset sales to pay down debt, the ratings agency said.


EUROPE


Germanys Celanese Sold to Blackstone

Kronberg, Germany-based Celanese agreed to be acquired for nearly $2 billion by the US private-equity firm Blackstone Group.
The German chemical company, formed from the chemicals business of Hoechst in 1999, has the majority of its assets and employees in the US.
Blackstone says stateowned Kuwait Petroleum, Celaneses largest shareholder with a 29% stake, has agreed to accept the offer.The deal, which valued Celanese at $2.57 billion, was conditioned upon at least 85% of the companys ordinary shares being tendered.
Blackstone appears to be betting on an upswing in the chemicals industry as the global economy recovers.The industry has been struggling with a recent price surge in natural gas, a key raw material, but is strongly cyclical.


ASIA


Matsushita Units To Collaborate

Matsushita Electric Industrial, best known for its Panasonic brand, plans to raise its stake in Matsushita Electric Works to 51% by acquiring a 19% stake, in a tender offer valued at $1.36 billion.
The companies announced an agreement to unify their management strategies to boost efficiency under increasing global competition. Both companies manufacture products under the National brand in Japan.
MEW was spun off from MEI in 1935.They plan to collaborate in home appliances, construction materials, lighting products, home and building networks and other areas.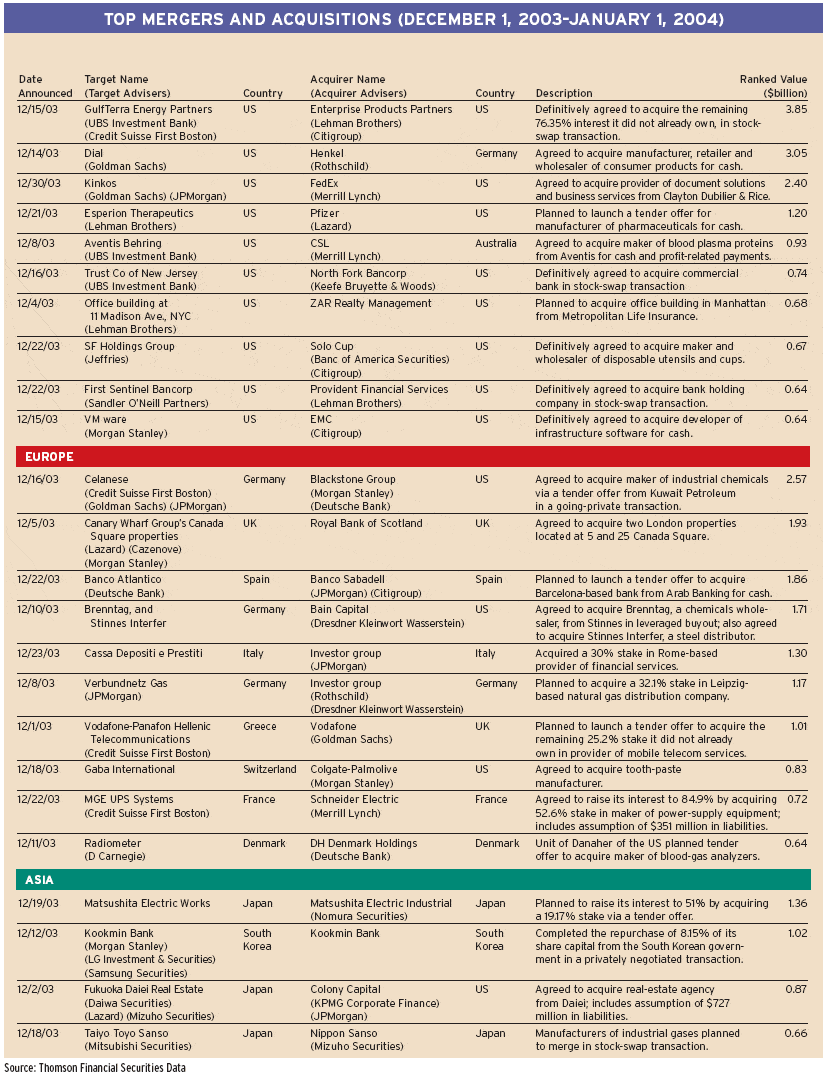 Gordon Platt