EUROPE

For the first time in 11 years, the value of European corporate takeovers in 2002 was greater than the value of US takeovers.
Crdit Agricoles $16.8 billion agreement to acquire Crdit Lyonnais pushed Europe over the top in December, according to data compiled by New York-based Thomson Financial. The big French bank merger gave Europe a 39% market share for worldwide M&A; in 2002, compared to 37% for the United States.The bank merger also propelled the financial industry to the lead as the most-active area for mergers last year, ahead of the energy-andpower industry.
The global total value of announced deals fell 28% last year to $1.2 trillion and was a far cry from the $3.4 trillion total of 2000, according to Thomson Financial. The US total of $458 billion last year was down 41% from 2001 and was the lowest total of announced deals since 1994. For the fourth straight year, the United States had a decline in the number of domestic takeover targets. Ironically, the United States was home to last years largest transaction,Pfizers $61.3 billion agreement last July to acquire Pharmacia.
Goldman Sachs easily won the competition for top deal adviser in both the global and US tables. The investment bank advised on six of the top 10 deals worldwide last year.
Citigroup can point to its work on the Crdit Lyonnais transaction for giving it a secondplace finish globally last year. Citigroup edged out Morgan Stanley, which finished third as deal adviser, according to Thomson Financial.
Crdit Agricoles acquisition of Crdit Lyonnais created one of the largest banks in the eurozone, rivaling BNP Paribas. Last December Crdit Agricole replaced its chairman, Marc Bue, after BNP Paribas outbid Agricole for a 10.9% stake in Lyonnais at a government auction. Agricoles aggressive new chairman, Rene Carron,wasted no time in getting Lyonnais to agree to a recommended tender offer.

THE AMERICAS


Cadbury Schweppes Buys Pfizer Unit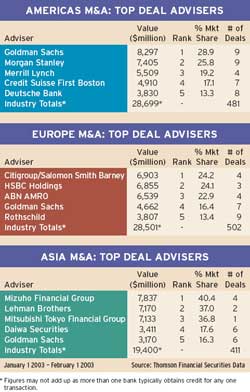 London-based Cadbury Schweppes says it will become the number one global confectioner following its purchase of Adams, a chewing gum and cough drop manufacturer, from Pfizer, the New York-based pharmaceutical group.
According to Cadbury CEO John Sunderland, Adams brings powerful brands, access to new geographies and significant scale in the fastestgrowing confectionery sectors. The British firm agreed to buy Adams for $4.2 billion in cash, including $450 million for tax benefits. Cadbury says it will gain scale access to important new markets, particularly in Latin America. Four brands account for 70% of Adamss sales: Halls medicated cough drops,Trident sugar-free gum, Dentyne Ice chewing gum and Bubbas bubble-gum.
Cadbury, known in Britain for its Cadbury Crme Egg, is also the worlds third-largest softdrinks producer following Coca-Cola and Pepsi. Its beverages include 7 UP,A&W; Root Beer, Canada Dry, Dr Pepper and Hawaiian Punch.






Gordon Platt