Mergers & acquisitions
Milan-based UniCredito Italiano's agreement to merge with Rome-based bank Capitalia in a stock-swap transaction valued at $29.5 billion has widened Europe's lead over the United States in announced M&A; activity so far this year.
Thanks in large part to the ongoing consolidation in the banking industry, European M&A; deals totaled $1.02 trillion in the year to date through June 1, well ahead of US M&A; activity of $858 billion in the same period, according to Dealogic. Both totals were the highest year-to-date M&A; volumes on record.
Finance is the most-active industry for dealmaking so far this year in both Europe and the US, and more bank mergers are likely, despite rising interest rates, analysts say. A European bank consortium, composed of Royal Bank of Scotland (RBS), Dutch-Belgian bank Fortis and Spain-based Santander Central Hispano, increased its bid in late May for Netherlands-based ABN AMRO to $96 billion, well above an earlier bid of $86.5 billion by Barclays of the United Kingdom, in the world's biggest bank takeover battle ever.
RBS says the combination of its global banking and markets division with ABN AMRO's global wholesale businesses would create a leading corporate and institutional business with scale and enhanced growth prospects. ABN AMRO is one of a relatively small number of banks with a strong capability in international cash management, payments and trade finance, according to RBS. These are "sticky" products that are often the basis of long-term relationships offering the possibility of selling other, higher-value products, RBS says.
Meanwhile, the combination of RBS-owned Citizens Financial, the Providence, Rhode Island-based bank that operates in 13 US states, with ABN AMRO's Chicago-based LaSalle Bank would create a leading bank in the US, with top-10 rankings across a broad range of retail and commercial banking products, according to RBS.
ABN AMRO agreed on April 23 to be acquired by Barclays and, as part of the deal, to sell LaSalle Bank to Bank of America for $21 billion. A Dutch commercial court ruled in May that it was unacceptable for ABN AMRO to sell LaSalle to Bank of America without first getting shareholders' approval. Bank of America has appealed the commercial court's decision to the Dutch Supreme Court.
Barclays declined to comment last month on reports that it has drawn up a contingency plan to restructure its all-share offer for ABN AMRO to include some cash to make it more appealing.
The merger of Italian bank Capitalia into UniCredito Italiano would create Europe's second-largest bank, with a market value of $135 billion, second only to HSBC Holdings. The combined bank would have more than 9,000 branches, including more than 5,000 branches in Italy. Alessandro Profumo, chief executive of UniCredit, says the acquisition of Capitalia was the bank's last chance to boost its presence in Italy. ABN AMRO owns 8.6% of Capitalia.
Following its purchase of HVB of Germany in 2005, UniCredit had some 30% of its total assets in Germany and 26% in Italy, with the rest primarily in Central and Eastern Europe.
Capitalia was created in 2002 as part of the reorganization of the former Banca di Roma, which was privatized in 1997. It is the largest bank in Rome and Sicily and has little regional overlap with UniCredit. Matteo Arpe, Capitalia's chief executive, resigned in a disagreement over strategy with the bank's chairman, Cesare Geronzi, who will become deputy chairman of UniCredit. Profumo will remain chief executive of UniCredit, and Dieter Rampl, UniCredit's chairman, will retain his position.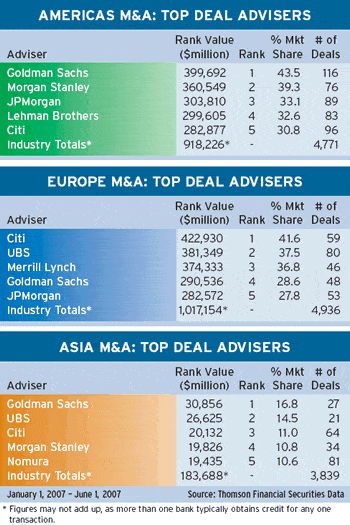 Gordon Platt