Europes utilities, phone companies and banks are increasingly finding themselves to be the targets of takeovers, with mergers and acquisitions in the region running at a record pace and surpassing the level in the United States so far this year.
European-targeted announced M&A; activity for the year to date on May 5 totaled nearly $524 billion, the highest on record for the period and an increase of 99% compared to the same period in 2005, according to Dealogic.
The utility sector is the industry that has been most often targeted for acquisitions in Europe so far this year. On May 10 Austrias state-controlled oil company OMV agreed to buy national electric utility Verbund for $16.1 billion. The combined company would have a market value of about $37 billion. Europes utility companies are joining together in larger groups to expand and protect market share ahead of full competition a year from now.
OMV Verbund plans to expand its natural gas and electric power business in Eastern Europe. JPMorgan Chase advised OMV on the deal, while Merrill Lynch advised Verbund.
The acquisition of Verbund was the third-largest European utility deal announced so far in 2006. The largest was Germany-based E.Ons $56.6 billion bid for Spains Endesa, followed by the government-backed $43 billion merger in France of Suez with Gaz de France to frustrate a potential takeover attempt by Enel of Italy.
JPMorgan and Merrill Lynch are tied for the lead in European utility M&A; financial advisory rankings so far this year, working on deals valued at $116 billion, according to Dealogic. Telecommunications and finance were the second and third most active sectors for European announced M&A; through May 5, with $52.2 billion and $45.8 billion of transactions, respectively.
Overall European M&A; activity announced in the first four months of 2006 reached $479 billion, versus a total of $448 billion for the United States and Latin America in the same period, according to Thomson Financial.
In the largest European deal announced in April, Abertis Infraestructuras of Spain agreed to merge with Autostrade, an Italian owner and operator of toll highways, in a transaction valued at $28.9 billion.
Announced global M&A; in the finance sector reached $159 billion year to date as of May 9, representing a 41% increase from the same period a year earlier, according to Dealogic. The Americas accounted for 49% of the total. The largest deal in the finance sector so far this year is Wachovias acquisition of California-based Golden West Financial for about $25 billion.
Charlotte, North Carolina-based Wachovia, the fourth-largest bank in the US, had assets of $542 billion as of March 31. It said the acquisition of Golden West, announced May 7, would give its banking business access to 55% of the US population. Merrill Lynch and Wachovia itself advised Wachovia on the deal, and Lehman Brothers advised Golden West.
Merrill Lynch leads the 2006 global M&A; advisory rankings in the finance sector, with a volume of $51.4 billion from 15 deals, followed by Citigroup with $41.7 billion from 12 deals, as of May 9, according to Dealogic.
Meanwhile, private equity firms continue to be active in the M&A; market. Global sponsor-backed deals reached $219 billion in the year-to-date period as of May 15, Dealogic says. That was an increase of 37% from the same period of 2005 and represented the highest year-to-date total on record. Citigroup is the top M&A; adviser on such deals so far in 2006, followed by JPMorgan Chase.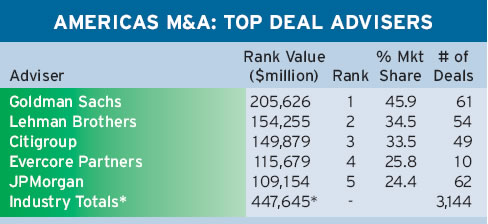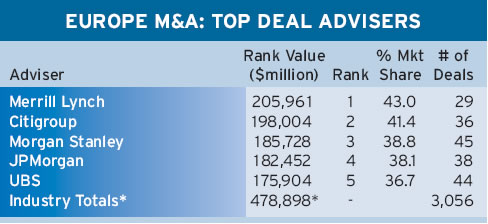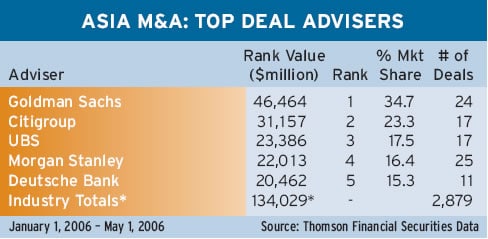 * Figures may not add up, as more than one bank typically obtains credit for any one
transaction.


Gordon Platt