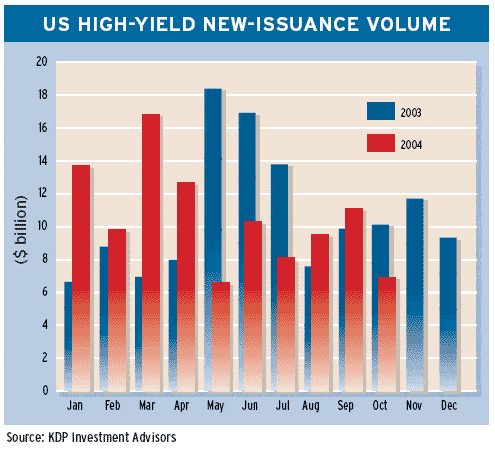 Ford Motors first eurodenominated benchmark bond issue of 2004 rolled across the finish line in somewhat dented shape last month.
The US automaker was forced to reduce the size of the issue from an originally planned 1 billion to 750 million and to sweeten the terms of the five-year bond to satisfy hesitant investors.
Auto-industry bonds have not fared well in general lately, as company earnings have disappointed and worries about pension and healthcare liabilities have dogged the sector. Standard & Poors downgraded General Motors in October to triple-B-minus, the lowest investment grade.
Ford increased its simultaneous issue of twoyear dollar-denominated floating-rate notes from a planned $500 million to $800 million to make up for most of the money it missed out on in the truncated eurobond issue.
Lead managers on both deals were Deutsche Bank, JPMorgan and UBS.
Meanwhile, the US private placement market has remained active in recent weeks.Advanced Micro Devices, based in Sunnyvale, California, closed a private offering of $600 million of 7.75% senior notes due in 2012.
AMD intends to use the proceeds from the offering, along with other cash on hand, to prepay the full amount owed by its German subsidiary,AMD Saxony, under its existing term loan.
The companys Saxony operations, which occupy a 100-acre site near the airport in Dresden, are one of the largest US direct investments in eastern Germany.
AMD designs and produces microprocessors and Flash memory devices and employs approximately 1,950 people in Germany.
Dresser-Rand, one of the largest global suppliers of rotating-equipment services to the energy and industrial process industries, closed a private offering of $420 million of 7.375% senior subordinated notes due in 2014 to finance the companys acquisition by First Reserve, a Greenwich, Connecticut-based private equity firm.
First Reserve purchased Dresser-Rand from Ingersoll- Rand for approximately $1.2 billion, marking the private equity firms third carve-out acquisition from a major multinational corporation in 2004.
Arlington,Virginia-based AES said its Venezuelan subsidiary, Electricidad de Caracas, closed the sale of $260 million of 10.25% senior notes due in 2014. The notes were issued by EDCs finance subsidiary.
EDC is the largest electricity company in Venezuela. It plans to use the net proceeds of the offering to refinance debt and amend certain restrictive covenants.
This deal represents a return of a Venezuelan corporation to the longterm market after a long hiatus and shows investors renewed confidence in the company and the country, says Joseph C. Brandt, executive vice president and chief operating officer of AES.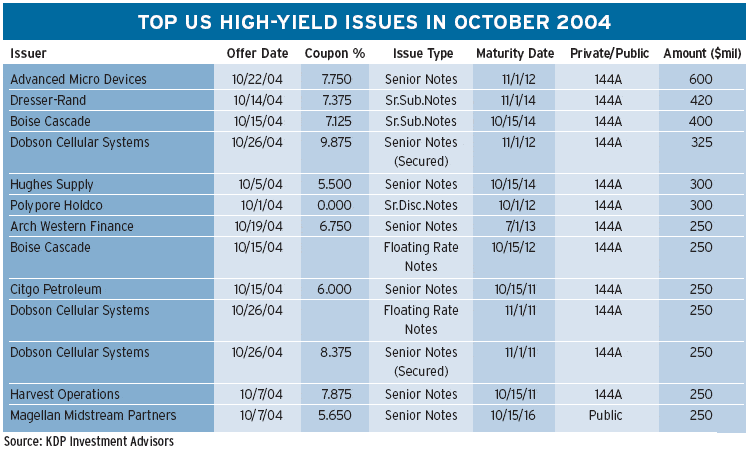 Gordon Platt