The issuance of new stock issues has picked up sharply worldwide in the past few months, raising hope among investment bankers that the equity side of their business is warming up.
For the first time since 2000, the annual global issuance of IPOs will surpass $100 billion for 2004.
According to analysts at London-based Dealogic, the $100 billion level was reached on October 25 through a total of 1,042 new issues.
The global IPO total for the same period last year was only $29 billion from 556 issues.
October 2004 was the most-active month for IPOs registered with the US Securities and Exchange Commission since August 2000 in terms of the number of deals priced, Dealogic reports.
Many of the recent new stock issues have posted substantial gains in their first days of trading. Shares of MarketAxess Holdings jumped 60% in their market debut on November 5. MarketAxess, based in New York, provides an electronic platform for trading of fixed-income securities.
Shares of Efes Breweries International rose about 20% when they began trading on the London Stock Exchange on October 15.The $700 million issue raised $119 million of new money for the Amsterdam-based company, which manages the international operations of Turkish brewer Anadolu Efes.
Citigroup established an American depositary receipt program in October for Hutchison Telecommunications International, which provides mobile and broadband services to 11 million customers worldwide.
Hutchisons initial public offering of ADRs was part of a $900 million global offering, with the ordinary shares listed on the Hong Kong Stock Exchange.
Chinese companies offering online services also have been active IPO issuers recently and have established ADR programs to tap into the US capital market.
China Finance Online, a Beijing-based Internet firm that sells financial and company data in China, launched an ADR program on October 20 in conjunction with its $80.6 million IPO. JPMorgan Chase is the depositary.
The bank also announced an ADR program for eLong, which operates an online travel service in China and which raised $62.1 million it its IPO. Deutsche Bank Securities acted as the lead manager for the offering, with WR Hambrecht and Allen & Company as co-managers.
Lawyers at White & Case, who represented Mobilcom with the drafting of a prospectus and the admission of 18.6 million shares to the regulated market of the Frankfurt stock exchange, say the transaction represents one of the most important listings in the German capital market this year.
The admitted shares, with a market value of about $300 million, represent 28.5% of Mobilcoms share capital and are held by a subsidiary of France Tlcom.
Mainly a reseller of cellular phone services, Mobilcom uses networks owned by other carriers.
UK-based BioProgress, which provides new drugdelivery mechanisms for the pharmaceutical oral-dosage markets, listed its ADRs on Nasdaq. No new shares were issued in conjunction with the JPMorgansponsored program.
Australia-based biotech Alchemia started a Level-1 ADR program in the US over-the-counter market. Bank of New York is the depositary.
Sega Sammy Holdings, a Japanese manufacturer of slot and pachinko machines, also launched a Level-1 program sponsored by Bank of New York.
VNU, a global information and media company based in the Netherlands, selected Bank of New York as successor depositary for its ADR program.VNU owns ACNielsen, the media measurement company, and publishes Billboard magazine.
South Korean automaker Hyundai Motor selected JPMorgan as successor depositary for its global depositary receipt program.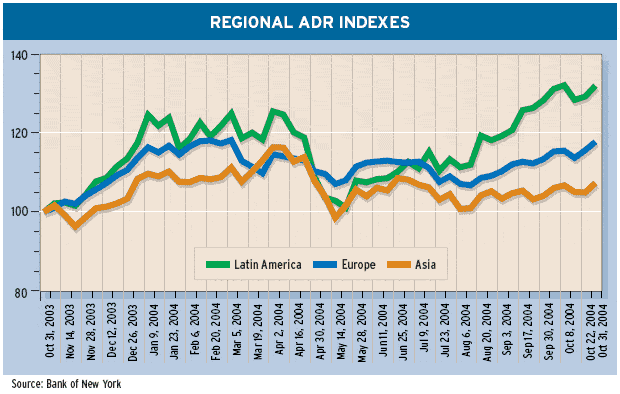 Gordon Platt