The volume of mergers and acquisitions announced worldwide so far this year reached $1.65 trillion as of June 7, up 38% from the same period a year earlier and the highest year-to-date total on record, just slightly ahead of the previous record for the same period in 2000, according to Dealogic.
A record of 25 deals with a value of $10 billion or more have been announced so far in 2006, up from 15 such deals in the same period of 2005. The top-five targeted industries for acquisitions this year are telecommunications, finance, utility and energy, real estate and healthcare, Dealogic says.
Although Europe and the United States are running neck and neck in overall M&A; activity, the largest single deal so far this year was in the US: AT&T;s $67 billion offer for BellSouth.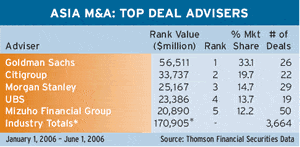 The biggest deals in Europe announced in May involved competing bids for Luxembourg-based steel company Arcelor and Amsterdam-based Euronext, which runs the Paris, Amsterdam, Brussels and Lisbon bourses.
Manfred Weber, chief executive of the Association of German Banks, said in Berlin on
June 12 that Euronext shareholders could still decide in favor of a merger with the Deutsche Bourse rather than with the New York Stock Exchange. I believe that Euronexts shareholders will give it another thought, Weber said. The management of Euronext has agreed to a nearly $10 billion cash-and-stock takeover by the NYSE to create a business worth about $20 billion.
We will pass up on a great chance if we dont use consolidation of the European stock exchange landscape to create a counterweight to Wall Street, Weber said. If the NYSE succeeds in acquiring Euronext, it plans to create a single platform where traders could deal in stocks, options, futures, commodities and corporate bonds across the US and Europe for up to 12 hours a day.
Meanwhile, steel company Arcelor on June 12 rejected a revised takeover offer by Mittal Steel, based in the Netherlands, but agreed to hold a special vote that could block its plan to merge with Russias Severstal. Arcelor rejected Mittal Steels $27 billion bid as inadequate but said it would consider an improved offer. As Global Finance went to press, shareholders were to vote on June 28 whether to approve a hostile takeover from Mittal or a plan to merge Arcelor with Severstal, which is playing the role of a white knight favored by Arcelors board.
On June 14 Paris-based AXA agreed to buy insurer Winterthur from Credit Suisse for about $10 billion in cash. In addition, AXA will refinance $1.25 billion of Winterthurs outstanding debt. Winterthur operates in 17 countries and has 13 million clients.
In the US, Charlotte, North Carolina-based Wachovias $25.5 billion acquisition of California-based Golden West Financial was the biggest M&A; deal announced in May. It was followed by a planned leveraged buyout of pipeline operator Kinder Morgan by an investor group advised by Goldman Sachs.
Richard Kinder, chairman and CEO of Kinder Morgan, joined with senior managers and outside investors to buy the company and take it private. Including $8 billion of liabilities, the offer valued the company at about $24 billion, according to Thomson Financial. The acquisition would be structured as a merger between Kinder Morgan and the group of investors that includes Kinder and co-founder Bill Morgan, board members Fayez Sarofim and Mike Morgan, Goldman Sachs Capital Partners, AIB Global Asset Management Holdings, the Carlyle Group and Riverstone Holdings.

Source: Thomson Financial Securities Data

Gordon Platt