Corporate Debt

A global wave of leveraged buyouts, which are financed with large amounts of high-yield bonds, is pushing the total of less-than-investment-grade debt to a record high this year.
By early November more high-yield debt had been issued worldwide in the year-to-date period of 2006 than in any full year on record, according to Dealogic. And that was before Nashville, Tennessee-based HCA, the biggest US hospital operator, sold $5.7 billion of bonds on November 9 to help finance its leveraged buyout, or LBO, by a private-equity group.
HCAs three-part sale was the biggest issue of high-yield bonds to finance an LBO since the $6.1 billion of bonds sold in 1989 to fund Kohlberg Kravis Roberts purchase of RJR Nabisco. Private-equity firms already have announced a record $465 billion of LBOs this year, according to London-based Private Equity Intelligence. The HCA buyout was the biggest LBO ever.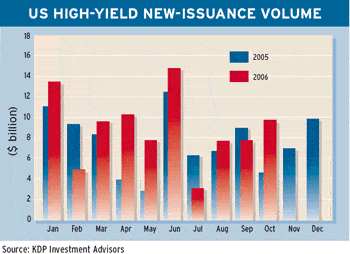 October set a single-month record with $30.5 billion in issuance of high-yield debt, according to Dealogic. Investors who are hungry for yield are eagerly buying big issues of high-yield bonds now that the Federal Reserve has paused in its more than two-year-long campaign of raising interest rates. The Fed could begin to ease rates early in 2007, according to a survey by the Bond Market Association of a committee that includes the leading strategists and research analysts at its member firms.
The chance of a rate cut sometime in early 2007 will depend largely on whether there is relief from inflationary pressures and the degree to which the economy slows, says Michael Decker, senior vice president and head of research and policy analysis at the association. Longer-term yields continue to be held down by consistent demand for longer-duration assets from both US and foreign investors and the confidence of market participants in the ability of the Fed to continue fighting inflation, Decker says.
HCA sold $1 billion of 9.125% senior secured second-lien notes due in 2014, $3.2 billion of 9.25% second-lien notes due in 2016 and $1.5 billion of 9.625% second-lien toggle notes also due in 2016. Interest on the toggle notes can be paid in additional bonds instead of cash. Citigroup, Banc of America Securities, JPMorgan, Merrill Lynch, Deutsche Bank and Wachovia Securities managed the private placement to qualified institutional investors.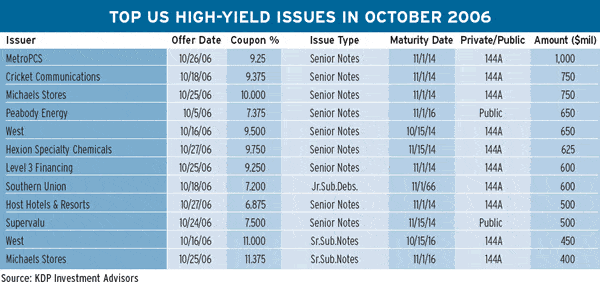 The $1.1 billion in bonds issued by NRG Energy on November 8, the same day that Bank Nederlandse Gemeenten, or BNG, of the Netherlands sold $1 billion in high-yield debt, pushed the global issuance total for the year to date to $211.7 billion, according to Dealogic. The previous record of $210.8 billion was for the full year 2004.
Meanwhile, the planned buyout of Freescale Semiconductor, based in Austin, Texas, is expected to add another $6.15 billion to the high-yield bond market. The specialty chipmaker plans to sell the bonds to help finance its takeover by Blackstone Capital Partners, Carlyle Partners, Permira and TPG Partners. Freescale also obtained a commitment for up to $4.25 billion of senior secured credit facilities, including a $3.5 billion seven-year term loan and a $750 million six-year revolving loan facility. Citigroup and Credit Suisse are leading the loan package. Freescale said it was prepared to issue bridge loans in case the bond sale could not be completed in time for the closing of the LBO.


Gordon Platt