THE AMERICAS

A surge in new issuance of high-yield bonds in the US market is being met by strong demand. Even Warren Buffett, the Oracle of Omaha, is buying.
High-yield bond issuance in February surged to $8.75 billion, according to Vermont-based KDP Investment Advisors.
The high volume of new issues may be difficult to sustain, however, as no jumbo deals are on the horizon, says Lucine Kirchhoff, managing director, loan syndicate, at Banc of America Securities in Charlotte, North Carolina.
The average deal size decreased to $212 million in early March from $350 million in the first two months of 2003, she says.
High-yield bond issuance for the purpose of repaying high-yield loans is running well below last years level, Kirchhoff says. Many commercial paper issuers have taken advantage of historically low interest rates to replace short-term debt with corporate bonds, which in turn has decreased reliance on back-up lines, she says.
Even apart from junk bonds, fixed-income fund managers have increased their corporate bond holdings at the expense of US treasury securities. In the coming year, corporate bonds should outperform government bonds, says Andrew Sutherland, head of credit at Edinburgh, Scotland-based Standard Life Investments.
At some point, however, treasury yields will begin to rise as inflation concerns revive, which may limit gains in corporate bonds, he says.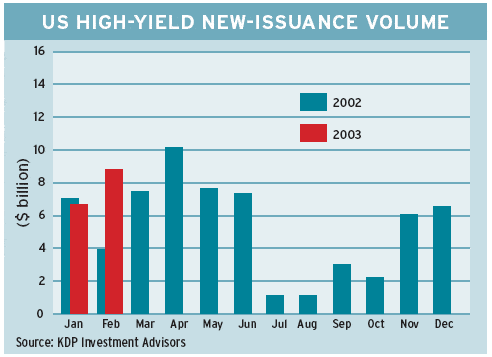 Association to Post Bond Prices on Web

The New York-based Bond Market Association is adding free corporate bond prices to its Web site,www. investinginbonds.com.
The prices will be displayed on a four-hour delayed basis via the Trade Reporting and Compliance Engine developed by the National Association of Securities Dealers.
Through a searchable database, investors will be able to obtain price, volume and maturity data, as well as a trading history for each bond.
The association represents securities firms and banks that underwrite, trade and sell debt securities.

MIDDLE EAST


First Corporate Bond Set in Saudi Arabia

The International Finance Corporation, the part of the World Bank that lends to the private sector, signed a riyal-denominated credit guarantee of $6.7 million for the first corporate bond issue in Saudi Arabia.
The partial guarantee will back a bond issue by Saudi Orix Leasing of up to $15 million, which the IFC says it hopes will start the development of a local corporate bond market.
The Saudi Investment Bank also will guarantee part of the issue, for which it will be adviser and market maker.The bank owns 28% of Saudi Orix Leasing, and IFC holds a 10% stake.The Trade Development and Investment Group holds 32% of the leasing company, and Japan-based Orix Group holds the remaining 30%.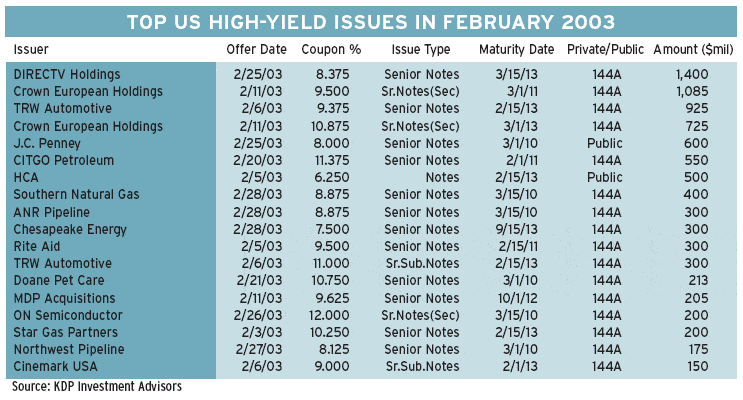 Gordon Platt