Corporate debt / corporate financing news
The high-yield bond market in the United States all but shut down for new issues in July, as subprime mortgage losses led to a repricing of corporate credit risk and an end to cheap borrowing for just about everybody except Uncle Sam. US government bond yields declined as investors fled a falling stock market for the safety of treasury securities, while spreads on lower-rated corporate issues suddenly doubled.
"Risk premia are likely to remain at elevated levels until a clearer picture of the subprime fallout emerges," says Samarjit Shankar, Boston-based director of global strategy for the currency group at The Bank of New York Mellon. "Thus, ongoing concerns about the underlying systemic problems are likely to leave credit spreads higher than the very tight levels investors had gotten accustomed to," he says.
The Bank of New York Mellon's proprietary "iFlow" indicators on global investor flows in early August revealed steady buying of US treasury securities and the low-yielding Japanese yen and Swiss franc in recent weeks. "Going forward, while the search for yield may yet resume, the reassessment of risk may favor the relatively safer current-account surplus currencies," Shankar says.
The pullback in liquidity and the strengthening of lending standards have inevitably led to a de-leveraging and put the brakes on the pace of easy credit for buyout deals, Shankar says. Leverage involves the use of credit to increase one's ability to speculate in the market or purchase companies. As of early August there were more than $300 billion in leveraged loans and high-yield bonds on the forward calendar, according to Fitch Ratings. This backlog will have to be cleared before much new lending for takeovers takes place.
Montpelier, Vermont-based KDP Investment Advisors says new high-yield bond issues in the US market totaled only $1.74 billion in July, down sharply from $22.74 in June. There were only four high-yield issues in July, all in the private-placement market for qualified institutional investors under Rule 144A of the US Securities Act, and none in the public market.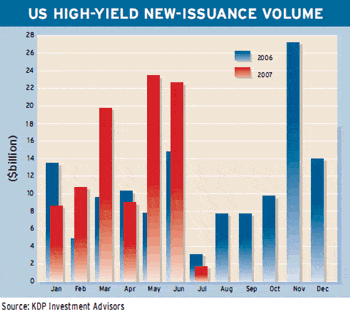 The only new issue of substantial size in the US high-yield market in July was a $1.26 billion offering of senior secured notes by global power-generation firm InterGen, which has nine power plants in five countries. InterGen concurrently offered £200 million of British pound-denominated bonds and E150 million of euro-denominated bonds.
The company reduced the size of the overall $1.875 billion-equivalent deal by $100 million and raised the yields offered twice on the debt due to volatile markets and skittish investors. Merrill Lynch, Lehman Brothers, Deutsche Bank and Barclays Capital managed the bond sale. InterGen planned to use the proceeds to refinance existing debt and repay project-level debt on four of its power plants.
Burbank, California-based LBI Media, one of the largest owners and operators of Spanish-language radio and television stations in the US, issued $225 million of senior subordinated notes. It planned to use the proceeds to redeem existing debt and to repay outstanding borrowings. Midland, Texas-based Parallel Petroleum issued $150 million in senior notes to pay down debt.
The only US high-yield bond issue in July that was related to a takeover was a $100 million offering of senior subordinated notes by Houston, Texas-based Cardtronics, the world's largest non-bank owner and operator of automated teller machines. The company planned to use the proceeds to partially fund its acquisition of the assets of the ATM business of 7-Eleven, an international franchiser and operator of convenience stores. Banc of America Securities was the sole bookrunner manager for the sale.

Gordon Platt