Mergers & Acquisitions

Announced hostile mergers and acquisitions of companies based in Europe in the first 10 months of this year set a record of $334 billion for the year-to-date period, more than triple the $100 billion in the same period of 2005, according to Dealogic.
Countries based in the United Kingdom were the most heavily targeted for hostile bids in Europe so far this year, with a volume of $95 billion, followed by companies in Spain, with $91 billion of hostile bids, and Luxembourg with $40 billion.
The leading financial advisers on European hostile bids in the first 10 months of 2006 were Deutsche Bank, Citigroup, JPMorgan, UBS and Merrill Lynch, in that order, Dealogic says.
The utility and energy sector was the most active industry for hostile bids announced in Europe so far this year, with a volume of $73 billion, followed by the metal and steel industry with $40 billion and transportation with $33 billion.
Global M&A; volume reached $3 trillion in January through October 2006, the highest volume since the same period of 2000 and a 37% increase over the year-to-date period for 2005, according to Dealogic. The largest deal announced in October was the buyout of US casino operator Harrahs Entertainment by Apollo Management and Texas Pacific Group.
Europe was the most-targeted region for overall M&A;, with $1.2 trillion in the first 10 months of 2006, an increase of 50% from the same period of 2005. Finance was the most-targeted industry, followed by telecommunications and the utility and energy sector.
M&A; in the financial services sector should remain near record levels in 2007, according to John Marra and Todd Williams, partners in the transaction services practice of PricewaterhouseCoopers. The record amount of capital that private equity firms have available is driving M&A; momentum in financial services, Williams says. Private equity participation in financial services deals is four times what we saw at the beginning of this decade, when the market reached its last peak, he says. And private equity firms are doing some of the bigger, more complex deals in the sector, something unheard of five or six years ago, he adds.
Marra says that although big deals get most of the attention, there is also a lot of activity in smaller transactions. In fact, the environment for smaller deals is arguably more competitive right now, he says.
While the economy is expected to cool next year, 2007 will be another strong year for M&A; activity in both banking and insurance, Williams says. The fundamentals for corporate buyers are still strong, and private-equity funds will continue to invest in these sectors, he says.
Meanwhile, Citigroup announced in October that it signed a definitive agreement to purchase a 20% equity position in Istanbul-based Akbank for approximately $3.1 billion. Akbank is Turkeys third-largest bank by assets. Sabanci Holding, which owns 34% of Akbanks shares, and its subsidiaries, which own an additional block of the Turkish banks shares, granted Citigroup a right of first refusal or first offer over the sale of any of their Akbank shares in the future. Citigroup also gave Sabanci a right of first refusal or first offer over its Akbank shares.
Citigroup says the agreement establishes a strategic collaboration between itself and Akbank to pursue new commercial activities, referral arrangements and joint ventures and to share certain expertise and technology.
The terms of the deal give Citigroup the right to appoint one non-executive director to Akbanks board, and the Sabanci Group the right to name one non-executive director to the board of Citigroups Turkey subsidiary.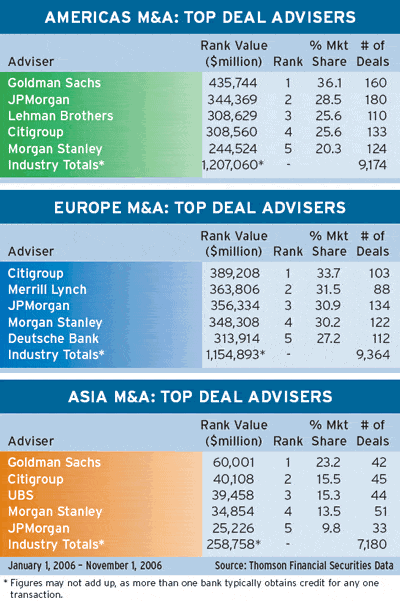 Gordon Platt