THE AMERICAS

Improving global growth prospects and a sinking dollar are enticing US investors to ship more of their investment dollars abroad, with much of that money going into American depositary receipts, analysts say.
According to the latest data available from the US Treasury, purchases of foreign equities by US investors accelerated in the third quarter of 2003, reaching $403 billion, up from $330 billion in the second quarter of last year. It is highly likely that when the final numbers are in, 2003 will set a record for US investor net buying of foreign stock. Evidence of the broadening of the global growth story likely implies continuing gains in US investment abroad, say analysts at the JPMorgan ADR group in New York.
In a report on the movement of US equity capital abroad, they note that purchases were sharply higher in Asia last year, centered in Japan and Taiwan, which were buoyed by improved business and economic performance and strong local stock markets.
A surge of capital raising by Taiwan-based companies, led by offerings by Chungwa Telecom and Taiwan Semiconductor Manufacturing, sparked interest in the countrys shares, according to JPMorgan. Meanwhile, US investor purchases of Latin American shares were basically flat from the second to the third quarter of 2003, despite an improving economic outlook in the region.
US investor net buying of non-US stocks in the first nine months of 2003 was $58 billion.The record for a full year was $59.3 billion in 1996.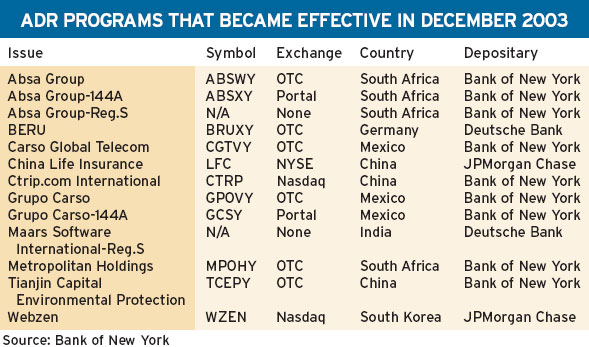 EUROPE


Russian Steel Firm Rolls Out GDRs

Deutsche Bank announced the establishment of a sponsored Regulation S global depositary receipt program for Severstal, Russias second-largest steel maker.
Each GDR is equivalent to three of Severstals ordinary shares. Severstal is the 18thlargest steel producer in the world, according to the International Iron and Steel Institute. In 2002 the Russian firm produced 9.65 million metric tons of crude steel and 8.53 million metric tons of finished steel products.
Severstal sells its products both domestically and in major export markets.

Sage Group of UK Starts ADR Program

Software publisher Sage Group launched an unsponsored ADR program in the US over-thecounter market in January, Deutsche Bank announced as depositary.
The British company develops, publishes and distributes accounting and payroll software for personal computer systems. Through its subsidiaries, it also maintains a registered-user database, which provides a market for related products and services, such as computer forms, software- support contracts, program upgrades and customer training.
Each ADR is equivalent to four of the companys ordinary shares.

ASIA


China Life ADRs Raise $591 Million

China Life Insurance launched an ADR program in conjunction with its $3.0 billion initial public offering in December 2003, of which $591 million was raised in ADR form, JPMorgan Chase announced as depositary.
Beijing-based China Life is the largest life insurer in China and one of the countrys largest asset managers and institutional investors. The ADRs trade on the New York Stock Exchange.
Each ADR represents 40 of the companys Class H shares, which trade on the Hong Kong Stock Exchange.

Ctrip.com Starts Nasdaq Program

Chinese travel Web site operator Ctrip.com launched a sponsored ADR program on Nasdaq as part of its initial public offering of 4.2 million American depositary shares.
Shanghai-based Ctrip is incorporated in the Cayman Islands. The company sells hotel reservations and airline tickets to businesses and individuals in China. Each ADR is equivalent to two of the companys ordinary shares. Bank of
New York is the depositary.

South Koreas Webzen Debuts

Seoul-based Webzen, a producer and distributor of online games in South Korea and China, launched an ADR program on Nasdaq.
The company made an initial offering of ADRs valued at $97.2 million. Ten ADRs are equivalent to one Webzen common share. JPMorgan Chase is the depositary.
Webzen is trying to expand its business into the US and Europe by offering its three-dimensional online game called MU, which is popular in Asia.

Maars Software Issues GDRs

Chennai, India-based Maars Software International established a sponsored, Luxembourg-listed, Regulation S global depositary receipt program in January with Deutsche Bank as depositary.
The companys Maarsman integrated-manufacturing software program targets the small- and midsize corporate market.
Maars offers a suite of products for implementing enterprise resource planning, or ERP. It also consults with businesses and provides project-management services and ebusiness integration.
One GDR is equivalent to 10 ordinary shares, which trade on the Stock Exchange, Mumbai.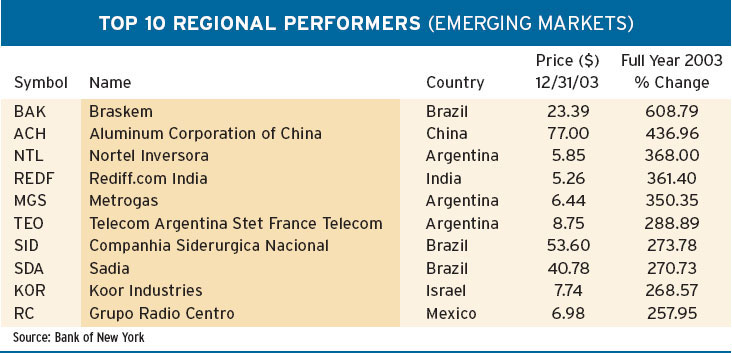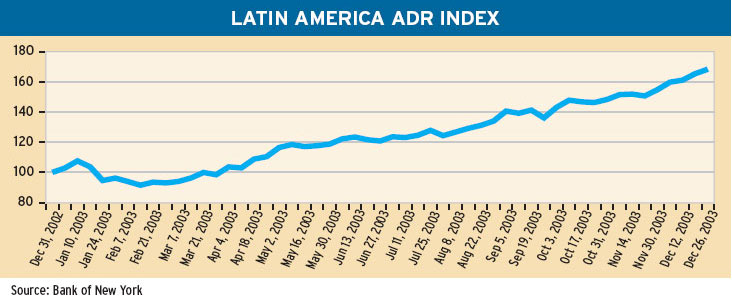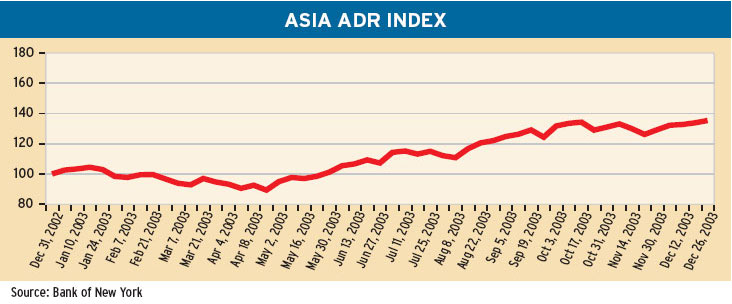 Gordon Platt