GLOBAL EQUITY/DRS
JPMorgan has added new depositary receipt specialists in Argentina, Brazil and Singapore to assist the growing number of companies in these countries that want to have their equity traded on exchanges outside their home markets.
The move follows a surge in global DR trading in the first quarter, which more than doubled in value to $1.2 trillion and rose nearly 70% in terms of volume to the equivalent of more than 30 billion shares. The fast growth in trading reflects the introduction of additional programs, price appreciation of outstanding issues, increased volatility in the first quarter and growing interest by investors in diversifying their portfolios, says Claudine Gallagher, global head of JPMorgan's DR business.
William Kirst, who has worked for the investment bank for 14 years, was named earlier this year to head JPMorgan's DR business in Latin America. The bank recently added three new vice presidents to its DR staff. Bettina Garcia will be responsible for DR sales in Argentina, Chile and Peru and will be based in Buenos Aires. Marcos Yokota will head DR sales in Brazil and will be based in São Paulo. Sharon Tang will head JPMorgan's DR sales office in Singapore.
While the bulk of DR activity still comes from blue-chip issuers in Europe, the share of trading activity from Asia and Latin America has increased. The big emerging markets of Brazil, Russia, India and China, known as the BRIC countries, will continue to see an increase in activity, as will markets in Eastern Europe, Gallagher says.
China is expected to have a particularly active DR market this year, following the establishment of a record number of DR programs by Chinese companies in 2007, Gallagher notes. "There were 26 China-based issuers last year, and this was something new for them," she says. "That's why it's nice to have local staff to help them." JPMorgan has DR offices in Beijing, Shanghai and Hong Kong. Elsewhere in Asia, it has DR specialists in Delhi, Mumbai, Seoul, Singapore, Taipei and Tokyo. The bank also has DR offices in New York, London and Amsterdam.
The BRIC countries raised $119 billion in initial public offerings last year, or 40% of global IPO proceeds, according to a report by Ernst & Young. By contrast, a decade earlier the United States and Europe dominated the IPO markets, and all the BRIC countries together produced $6 billion, or just 5% of total IPO proceeds, according to the report.
In the first quarter of 2008, almost all global IPO markets lost their momentum, as 236 IPOs generated $40.9 billion, representing a 38% drop in global volume and a 15% decline in capital raised from the same period a year earlier, the report says.
"Local exchanges are quickly catching up with the established top-league exchanges in terms of know-how and infrastructure," according to Ernst & Young. "For example, the São Paulo Stock Exchange (Bovespa) revealed itself to be a global IPO player, with liquidity ample enough to accommodate the 64 Brazilian IPOs which listed on Bovespa in 2007," it says.
Notably, eight of the top 10 IPOs last year represented companies from emerging markets. "Bolstered by robust economic growth, many emerging markets continue to prosper and produce IPOs while developed markets endure a slowdown," according to Ernst & Young.
Faced with more-scrutinizing investors and more-stringent valuations, record numbers of businesses withdrew or postponed their IPO plans early in 2008, the report says. "Even so, many companies await in packed IPO pipelines, ready to go public once market conditions improve," it says.
The top three IPOs by value in the first quarter were the $19.6 billion offering of Visa in the largest IPO ever in the US, the $5.8 billion IPO of China Railway Construction and the $2.9 billion listing of Reliance Power in India.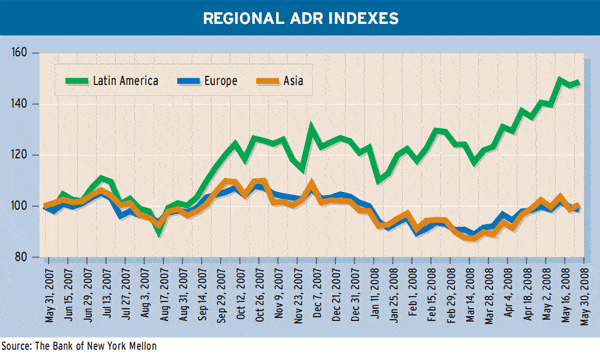 Gordon Platt