SOUTH AFRICA

Telkom, South Africas state-controlled telephone and wireless operator, listed its shares on the Johannesburg and New York stock exchanges on March 4.
The long-delayed partial privatization included an unusual pricing scheme. Members of a group of South Africans classified as historically disadvantaged individualswere offered a 20% discount to the offering price on the shares. The discount, known as the Khulisa offer,was made available to those individuals who were denied the right to vote or otherwise discriminated against under apartheid. In addition, if these individuals hold on to their shares for two years, they will qualify for a loyalty bonus of one extra Telkom share for every five shares they own. All other South African citizens were allowed to buy shares at a 5% discount to the offering price.
The IPO by South Africas ANC-led government sent a message to investors that the country is committed to free-market policies, according to public enterprises minister Jeff Radebe. He traveled to New York to ring the opening bell at the New York Stock Exchange.Telkom already was 30% jointly owned by SBC Telecom of the US and Telekom Malaysia.
Telkoms American depositary receipts were listed at $13.98 and closed the first week of trading at $14.09 after dipping to $13.90 in their debut. One ADR is equivalent to four ordinary shares. Bank of New York was selected as depositary for the ADR program.
According to Telkoms prospectus, the company is the largest communications provider in Africa based on operating revenue and assets.Telkom owns 50% of Vodacom, South Africas largest mobile telephone network, with 7 million subscribers. UK-based Vodafone owns 32% of Vodacom.
The Telkom offering was one of the few IPOs to make it to market in recent months, and it came at a time when telecom issues are not generally in favor with investors.The IPO raised about $500 million for the South African government, which sold 25% of Telkoms shares.
Deutsche Bank and JPMorgan Chase were underwriters for the global offering.
Minister Radebe says the government plans to sell shares in state-owned electricity utility Eskom in the near future. One goal of the privatizations is to create a new class of shareholders, he says.The Telkom listing process was accompanied by a massive public-education campaign in South Africa.

AUSTRALIA


Solar Tower Project Gets US Backers



Melbourne-based Enviro- Mission initiated a Level I American depositary receipt program in the US over-the-counter market.
Bank of New York is the sponsor for the program, which enables US investors to participate in EnviroMissions commercialization of Solar Tower power-station technology in Australia. One ADR is equivalent to 20 shares. EnviroMission listed on the Australian Stock Exchange in August 2001.
Within five years the company aims to be one of Australias leading producers of clean, renewable energy. EnviroMission owns the exclusive license to Germandesigned Solar Tower technology in Australia.
The companys first project, in Buronga, New South Wales, will develop a solar thermal-power station capable of generating enough electricity to supply 200,000 typical Australian homes without emitting greenhouse gases. EnviroMission expects to build another four plants by the end of 2010.The company says each plant will prevent 750,000 metric tons of carbon dioxide from entering the atmosphere annually by replacing coal-burning plants.
The power plants will use the suns radiation to heat air.The hot air will rise through a concrete tower, which will be 0.6- mile high, creating an updraft that will spin turbines to generate electricity. Through the use of heat-storage devices, the plants will be capable of generating electricity 24 hours a day.
EnviroMission says the monolithic scale of the project will attract tourism and associated economic benefits. US trading of its shares will provide increased international project visibility and diversification of the investor base, the company says.
A pilot plant using the Solar Tower technology was operated in Manzanares, Spain, from 1982 to 1989 and consistently generated 50 kilowatts of electricity, according to EnviroMission.

EUROPE


UkrNaftoGaz Makes Placement

Kiev-based UkrNaftoGaz, the national Ukrainian gas company, selected Bank of New York as depositary for its Regulation S depositary receipt program.
Ukraine is a major transporter of Russian gas to Europe through its pipeline network.The gas-transport system is Ukraines most valuable asset.
Gazprom, the Russian gas company, signed a 10- year contract with Ukr- NaftoGaz in June 2002 for the transit of 110 billion cubic meters of natural gas through Ukraine. Russia and Ukraine earlier agreed on the restructuring of Ukraines debts to Gazprom, postponing repayment for 12 years.
ASIA


Philippine Firm Selects JPMorgan

JPMorgan Chase was appointed as successor depositary for Philippine Long Distance Telephones ADR and GDR programs traded on the New York Stock Exchange.
Manila-based PLDT is the main provider of telecom services in the Philippines, with 2.1 million fixed-line subscribers and 8 million cellular subscribers.
Each ADR represents one common share, and each GDR represents one Series III convertible preferred share.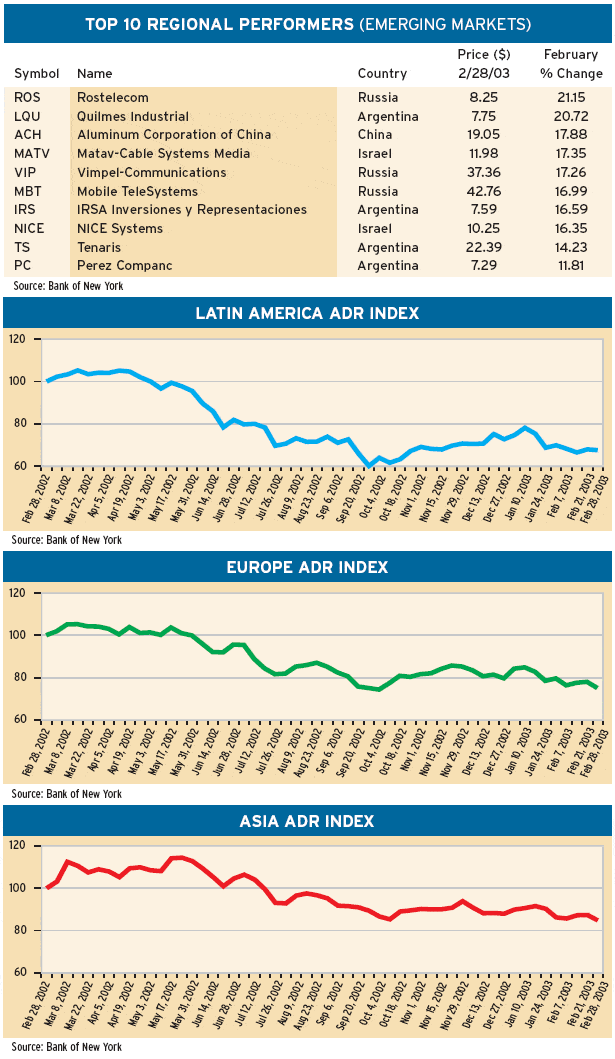 Gordon Platt