Mergers & acquisitions / corporate financing news
Global announced mergers and acquisitions totaled $550 billion in July, more than double the total for the same month a year earlier, according to Dealogic, but tighter credit conditions threaten to dampen leveraged buyouts in the future. Nevertheless, private equity firms still have plenty of cash to put to work and are likely to remain big buyers of companies in certain industry sectors, analysts say.
"We expect asset-management M&A; activity to stay vigorous as demographic and globalization trends remain favorable," says Ben Phillips, managing director and head of strategic analysis at New York-based Putnam Lovell, the division of Jefferies & Co. that focuses on the global financial services industry. "Moreover, a turbulent market will test alternative managers as never before," he says.
"Transactions involving alternative managers that blend strategy and liquidity will result in successful deals that deserve premium pricing," Phillips says.
Sales of investment management companies worldwide are expected to remain at historically high levels in the second half of 2007, powered by strategic buyers, according to Putnam Lovell's semi-annual report on M&A; trends. Demand for hedge funds filled up the acquisition pipeline in the first half of this year, with sales of alternative asset managers generating almost 30% of overall acquisition activity.
Blackstone Group, which made its public debut in June, announced last month that it has raised the largest private equity fund ever. The firm raised $21.7 billion for its Blackstone Capital Partners V fund, surpassing the $20 billion fund that Goldman Sachs raised earlier this year.
"This further vote of confidence from our investors is extremely gratifying," Blackstone CEO Stephen Schwarzman said in a statement. "The record-breaking amount of capital at our disposal allows us to continue our leadership role in private equity investing on a global basis."
The fund will be invested across a range of sectors and regions, but two-thirds of its available capital has been committed to deals already announced, including the buyout in July of Hilton Hotels. Blackstone says it intends to invest heavily in Beverly Hills, California-based Hilton, which has announced plans for a significant international expansion. The deal, which includes the assumption of about $7.5 billion in debt, was valued at $26.7 billion.
Despite growing fears about the end of an era of loose leverage, tighter credit will encourage buyout firms to seek targets with less cyclical, higher-quality cash flow, which fund managers offer even in the worst of times, according to Phillips of Putnam Lovell. Instead of worrying about credit conditions, private equity firms should fear collapsing equity values, which could erase the existing arbitrage between buyout and flotation multiples for fund managers, which is currently the cornerstone of many exit strategies, he says.
Buyers spent at least $33.7 billion to purchase 114 fund managers during the first half of 2007, the most for any six-month period ever, Putnam Lovell says. Financial sponsors purchased targets representing $380 billion of assets under management, a record 25% of all assets acquired in the first half.
Cross-border activity intensified dramatically in the period, accounting for 41% of deals announced in the asset management industry. Activity in Asia surged, as global fund managers sought local footholds in the world's fastest-growing marketplaces. Leverage plays less of a role in fund-management transactions than it does with private equity deals in other sectors, Putnam Lovell says.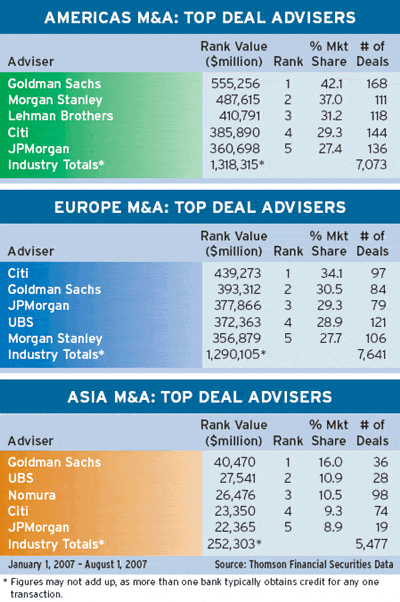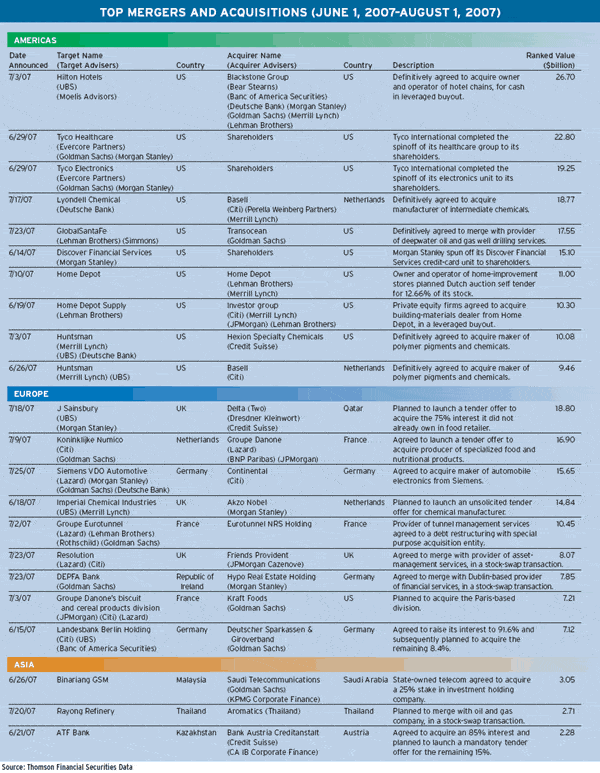 Gordon Platt