THE AMERICAS

The US banking landscape has changed significantly since last October, when Bank of America agreed to merge with FleetBoston in a $48 billion stock deal.
That transaction has triggered a wave of bank mergers that likely will be followed by more to come, analysts say.
The BofA deal led James Dimon, chairman and CEO of Chicago-based Bank One, to begin talking with JPMorgan Chase.The $59 billion merger of those two institutions was announced on January 14.
Bank CEOs react to these deals, says John McCune, director of bank research at Charlottesville, Virginia-based SNL Financial.
The top three banks will now each have over $900 billion in assets, perhaps raising the bar for future deals, as the others are left in a potential fight for survival,McCune says.
The second-tier banks that feel they need to merge to gain size will have to go for bigger prey, he says. Because there are fewer targets available, the premiums likely will rise. Its a matter of supply and demand, McCune says.
The $5.8 billion combination of Alabama-based Regions Financial and Tennessee- based Union Planters, announced on January 23,was a merger of equals, he says. Part of the rationale for the deal, according to McCune, could be that the banks were positioning themselves for sale to a top-20 bank seeking a presence in the Southeast.
The ripple effect will continue to be felt down the line and in the thrift industry, as well.
Philadelphia-based Sovereign Bancorps purchase of New Bedford, Massachusetts- based Seacoast Financial Services, announced on January 26, is expected to set off a rush of mergers among savings banks.
The ongoing consolidation in US financial services has been well received by the rating agencies, which see it as building stronger, more diversified institutions.
Moodys Investors Service says it may upgrade JPMorgan Chase upon successful completion of the Bank One merger. Moodys will focus on managements ability to extract the benefits the merger may provide.
These include improved earnings diversity, better bank liquidity, and higher profitability through cost reductions, it says.

EUROPE


Frances Sanofi Bids for Rival

French pharmaceutical manufacturer Sanofi-Synthelabo launched a hostile tender offer to acquire Aventis, its larger rival. If the transaction succeeds, it would create the worlds third-largest pharmaceutical company after US-based Pfizer and UKbased GlaxoSmithKline. The supervisory board of Aventis supported managements rejection of the stock-and-cash offer. As part of its effort to resist a takeover,Aventis plans to split off underperforming assets and to launch several new drugs to boost growth in coming years. Sanofi says a merger would generate savings of $2 billion a year.

ASIA


UFJ Bank To Buy Nippon Shinpan

Japan-based UFJ Bank agreed to acquire Nippon Shinpan, the countrys largest consumer-credit firm, to strengthen its own credit card business.
UFJ will buy preferred shares convertible into an undisclosed majority interest in Nippon Shinpan.
The two companies are expected to merge the banks UFJ Card unit with Nippon Shinpan to create Japans largest bank-affiliated credit card business.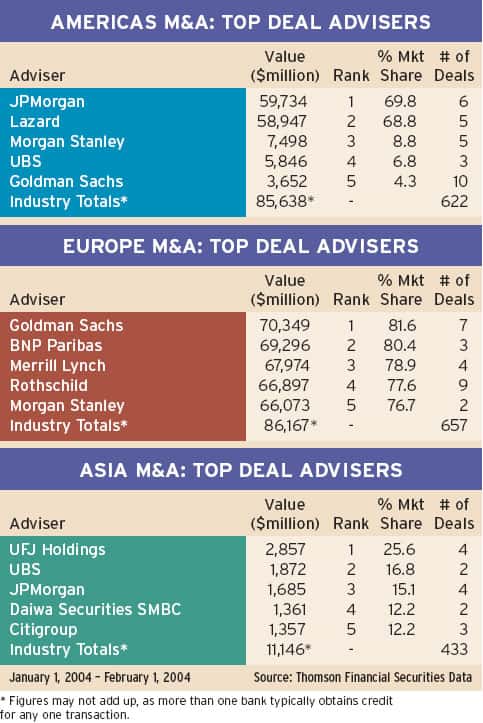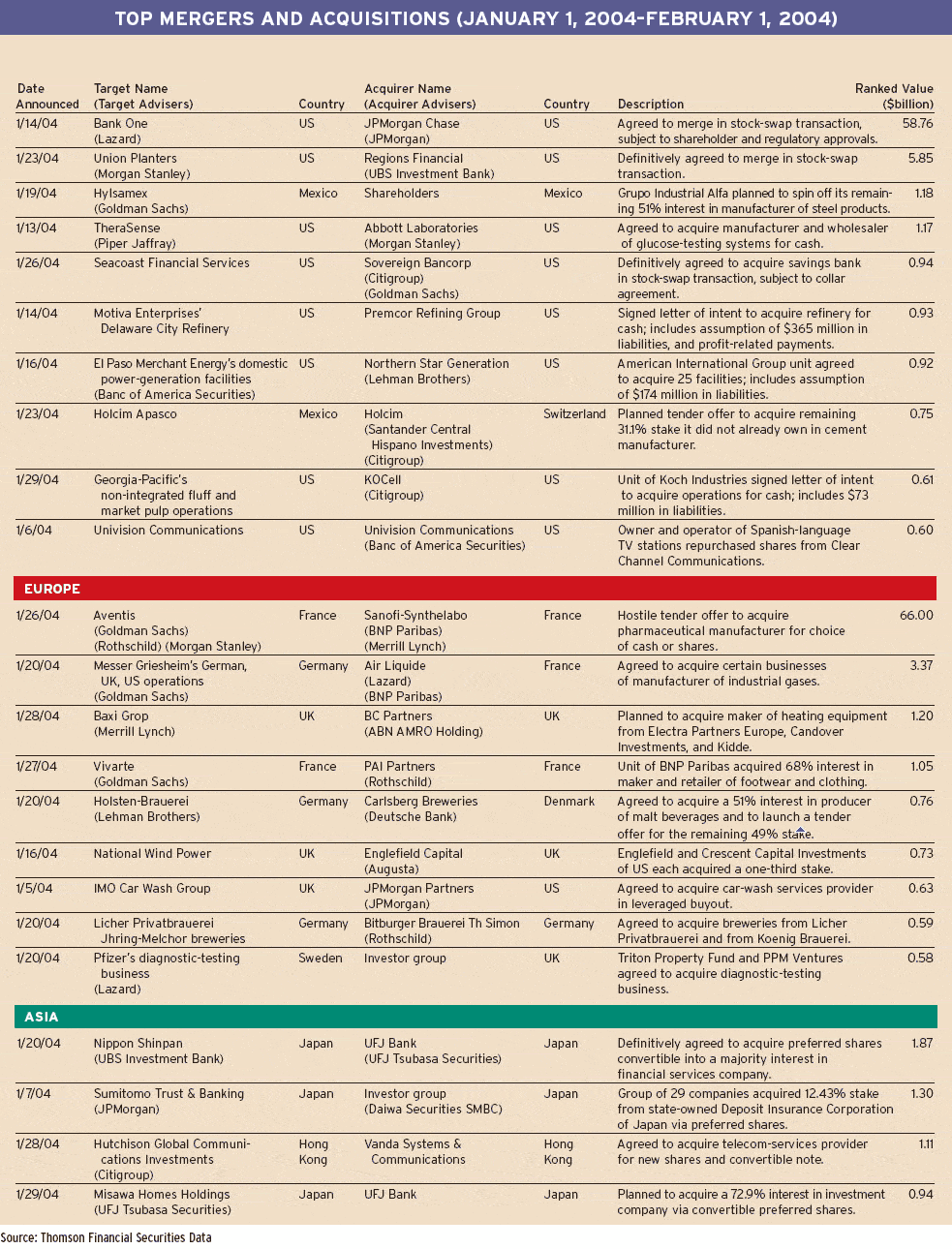 Gordon Platt