MERGERS & ACQUISITIONS


New Wave of Mergers Sweeps Across US Banking Industry


THE AMERICAS

Two new top-10 US banks were created by recent mergers, as the consolidation in the financial sector continued.
Royal Bank of Scotland extended its reach into the US Midwest, as its Providence, Rhode Island-based Citizens Financial Group agreed to acquire Cleveland, Ohio-based Charter One Financial for $10.5 billion in cash.
Meanwhile, Atlanta, Georgia-based SunTrust Banks agreed to merge with Memphis,Tennessee-based National Commerce Financial in a $7 billion cash-andstock deal.
SunTrust won out in a bidding war for National Commerce with Cincinnati, Ohio-based Fifth Third Bancorp.
Citizens Financial, which will keep its corporate headquarters in Providence, will add major markets in six new states as a result of the Charter One acquisition. It will also expand its business in Massachusetts, Connecticut and Pennsylvania.
This is a highly logical and very natural acquisition for Citizens to make, says Fred Goodwin, chief executive of RBS Group. As well as making good financial sense in its own right, it opens up another interesting range of options for Citizens to maintain their strong growth momentum, he says.
This will be Citizens 26th acquisition since 1988 and will increase the share of RBSs profits generated in the US to 25% of the total. Charter One also has grown significantly through acquisitions as well as aggressive retail expansion.
Charter One will keep its national bank charter and continue operations based in Cleveland. Charles John Koch will continue to serve as chairman of Charter One and was named a vice-chairman of Citizens Financial.

Consortium Bids For Dutch Retailer


EUROPE

VDXK Acquisition, a US-based consortium of investment funds, agreed to launch a tender offer to acquire Koninklijke Vendex KBB, the leading non-food retailer in the Netherlands.
The proposed leveraged buyout was valued at approximately $2.7 billion.
VDXK, a newly formed consortium, consists of funds affiliated with Kohlberg Kravis Roberts, Change Capital Partners and AlpInvest Partners.
According to Koninklijke Vendex KBB, an Amsterdam- based owner and operator of department stores, variety stores and specialty stores, the offer was the result of a competitive bidding process.The offer was conditioned on at least 95% of the companys shares being tendered.
The Dutch retailer has about 1,800 outlets in seven European countries.

Softbank To Buy Japan Telecom


ASIA

Japanese broadband Internet service provider Softbank agreed to buy Japan Telecom from US investment fund Ripplewood Holdings and other shareholders for about $3 billion, including the assumption of about $1.5 billion in liabilities.
Ripplewood acquired Japan Telecom, the countrys third-largest fixed-line telecom operator, from UKbased Vodafone for $2.3 billion in August 2003 in the biggest leveraged buyout ever in Japan.
According to Softbank, the acquisition will help it to gain a foothold in Japans corporate telecom business and create a wider market for its broadband services.
New York-based Ripplewood successfully exited another buyout deal in Japan earlier this year, when it floated a stake in Shinsei Bank.
Nikko Citigroup advised Japan Telecom on its sale to Softbank.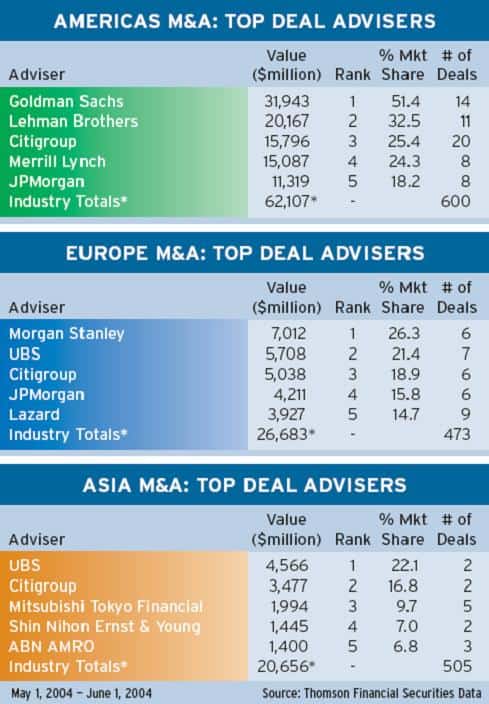 * Figures may not add up, as more than one bank typically obtains credit for any one transaction.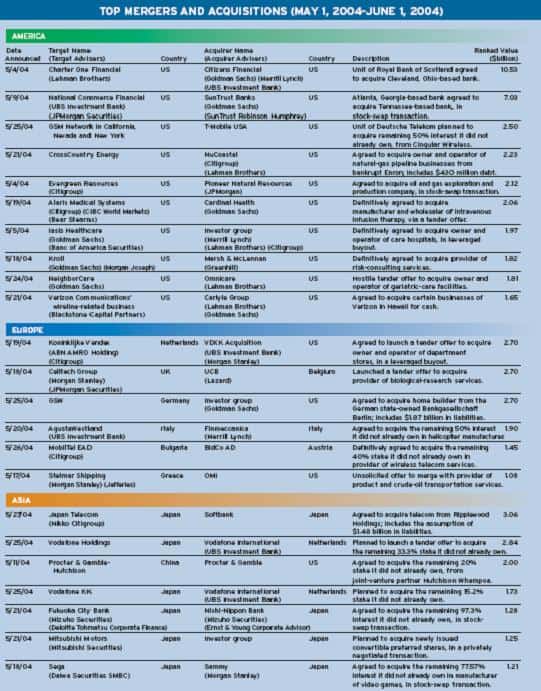 Source: Thomson Financial Securities Data

Gordon Platt