Mergers & Acquisitions

A listing of the members of the investor group that agreed to acquire SunGard Data Systems in an $11 billion leveraged buyout in late March reads like a Whos Who of private equity.
Silver Lake Partners, a Menlo, California-based buyout firm that focuses on market leaders in technology businesses, put together a team of seven private equity firms to bid for SunGard, which makes software for financial institutions as well as treasury-management systems for corporations.
Private equity firms, formerly fierce competitors, increasingly are pooling their resources in order to pursue bigger corporate takeover targets than they could tackle on their own. Joining in the formation of such groups is known as clubbing.
The SunGard purchase group includes Kohlberg Kravis Roberts, or KKR, one of the oldest and most experienced buyout firms, which bought RJR Nabisco in 1989. The SunGard buyout is the largest since that storied deal, which was valued at more than $26 billion.
Other members of the SunGard buyout team are:
Boston-based Bain Capital, which recently floated a $3.5 billion proposal with sports investment bank Game Plan to buy the entire National Hockey League.
Blackstone Group, a leader in private equity investing, whose funds manage more than $14 billion. The firm has raised a total of about $32 billion for alternative-asset investing since it was founded in 1985.
GS Capital Partners, which makes private equity investments on behalf of its parent, Goldman Sachs.
Providence Equity Partners, a Rhode Island-based private investment firm specializing in equity investments in media and communications companies. It has invested in more than 80 companies in 20 countries.
Texas Pacific Group, a Fort Worth, Texas-based private investment partnership managing more than $15 billion in assets. TPG is a leading global private equity investor in the technology sector.
Two other prominent private equity firmsThomas H. Lee Partners and the Carlyle Grouphad planned to be part of the buying group but dropped out at the end over a disagreement about price.
The new investors in SunGard are world-leading private equity firms, says Cristbal Conde, president and CEO of SunGard, which is based in Wayne, Pennsylvania.
They have a long-term view toward growing the businesses in which they invest and an excellent track record of working in partnership with management to build great companies, he says.
Each partner in the consortium brings complementary expertise to the investment, says Glenn Hutchins, a co-founder and managing member of Silver Lake Partners.
Our interests are aligned with the long-term interests of SunGards customers and employees, Hutchins says.
The transaction will be financed through equity contributed by each of the consortium partners and debt financing provided by JPMorgan, Citigroup, Deutsche Bank, Goldman Sachs and Morgan Stanley, which also acted as financial advisers to the investors.
The second-largest M&A; transaction in the US in March, the $7.6 billion acquisition of Toys R Us, also was a club deal.
The investor group that bought the retail toy store operator comprised KKR and Bain Capital Partners, along with Vornado Realty Trust, one of the largest real estate investment trusts in the US.
Washington, DC-based Carlyle Group launched two new buyout funds in late March, totaling more than $10 billion.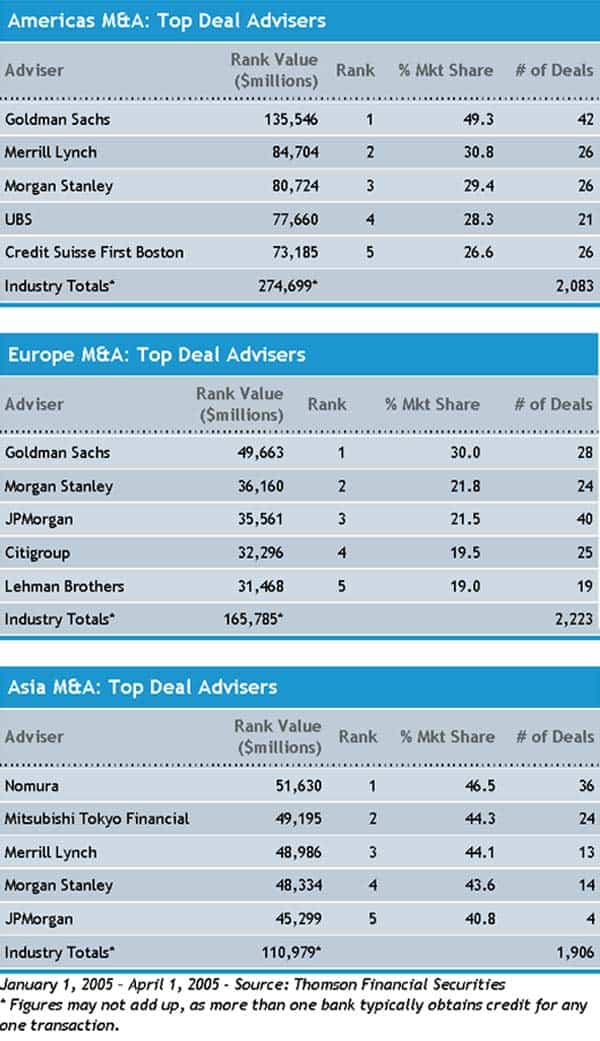 Top Mergers and Acquisitions (March 1, 2005-April 1, 2005)



Gordon Platt