MERGERS & ACQUISITIONS

A three-way merger between two Russian aluminum producers, Rusal and Sual, and the alumina assets of Swiss-based commodities trader Glencore International will create the worlds largest aluminum and alumina producer, toppling Alcoa of the United States from the number-one position.
The transaction, which was announced in Moscow in October, was valued at about $30 billion and will create United Company Rusal, with the capacity to produce about 4 million metric tons of aluminum annually, versus Alcoas annual production of 3.6 million metric tons. The new company plans to list on the London Stock Exchange within about 18 months of the closing of the merger, which is expected in April 2007. Morgan Stanley advised Rusal on the deal, while JPMorgan Cazenove and UBS advised Sual.
Economy and trade minister German Gref said Russia plans to open its aluminum market to international companies to prevent the new company from having a monopoly position. Alcoa is considering building an aluminum smelter in the Russian Far East to take advantage of Russias relatively low-cost energy supplies.
Brian Gilbertson, president of Sual, will act as non-executive chairman of United Company Rusal. Alexander Bulygin, Rusals current CEO, will serve as CEO of the joint company and will head the executive board.
Oleg Deripaska, 38, the Russian oligarch who gained control of the bulk of Russias aluminum assets in the so-called aluminum wars of the 1990s, is Rusals current chairman. This transaction is a logical step in our strategy of establishing the worlds leading aluminum company, Deripaska said. The merger gives Russia a second company that is the worlds largest in its industry. Gazprom is the global leader in natural gas.
The expanded Rusal will be two-thirds owned by Rusal, 22% by Sual and 12% by Glencore. The Swiss commodities firm was founded by Marc Rich, who was pardoned by President Bill Clinton in 2001 after fleeing the US in 1983 to escape charges of tax evasion, racketeering and fraud.
Glencore owns bauxite mines in Jamaica and Ireland and operates an alumina refinery in Italy. The new company says it will become self-sufficient in raw materials, solving the historic lack of available bauxite and alumina in Russia. United Company Rusal will have $12.2 billion in annual revenue and will employ about 110,000 people in 17 countries and have customers in 70 countries.
Russian president Vladimir Putin approved the merger in August, although the government did not initiate the transaction. The Kremlin is pursuing a strategy of encouraging the creation of national champion companies to project its power in global markets.
Growth Market
Russia will be the most active emerging market in Europe, the Middle East and Africa for mergers and acquisitions in the next 12 months, according to a survey by IntraLinks, a company that provides online workspaces for financial institutions involved in M&A; transactions.
The focus on Russia as a growth market appears to have intensified, IntraLinks says. However, bankers are far more likely to see opportunities in Russia than are corporations, it says. Poland, the Middle East and the Czech Republic also are expected to have increased merger activity.
In addition to European private equity firms, the survey shows increasing expectations that Asian companies will be snapping up European assets, particularly in Germany, says Rob Fisher, IntraLinks London-based managing director in charge of the EMEA and Asia.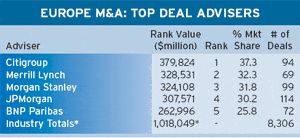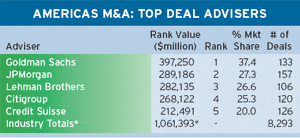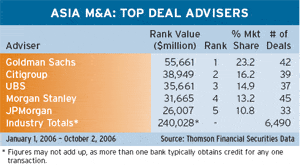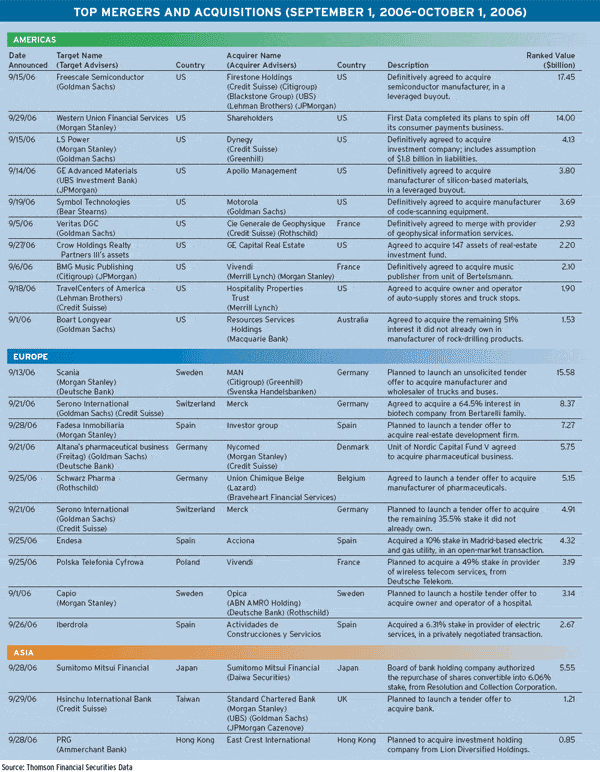 Gordon Platt