EUROPE

The ruble crisis seems like a distant memory. In August 1998, the Russian central bank threw in the towel.With the ruble under severe downward pressure, the central bank suspended trading of rubles for US dollars to conserve the countrys dwindling foreign exchange reserves.
Now, Russias central bankers have a different problem on their hands. They are finding it necessary to intervene in the markets to keep the ruble from appreciating too quickly.
With the average price of Urals crude rising to a 12-year high of $30 a barrel earlier this year, the countrys trade surplus soared.
While the oil price is unlikely to regain the pre- Iraqi war levels, there is no immediate threat to the Russian current account surplus, which is still likely to exceed $15 billion this year, says Clyde Wardle, emergingmarkets currency strategist at HSBC Bank USA in New York.
The Russian central bank indicated in mid-February that it could tolerate a 6% appreciation in the ruble during 2003.The banks decision to allow a stronger ruble means that import demand is likely to accelerate,Wardle says. In the first two months of 2003, he notes, imports were up 24% from the same period a year earlier.
The authorities dilemma is that a stronger exchange rate suits them in order to bring inflation down, but it also increases the risk to the balance of payments, he says.
Lower oil prices are likely to raise questions about the governments ability to continue allowing the real exchange rate to strengthen,Wardle says. But this is more likely to be a problem in 2004 than this year, he says. For the time being, the ruble is likely to remain strong, Wardle says, since the Duma election in December 2003 will be easier for the government if the purchasing power of ruble wages is enhanced by an improving exchange rate.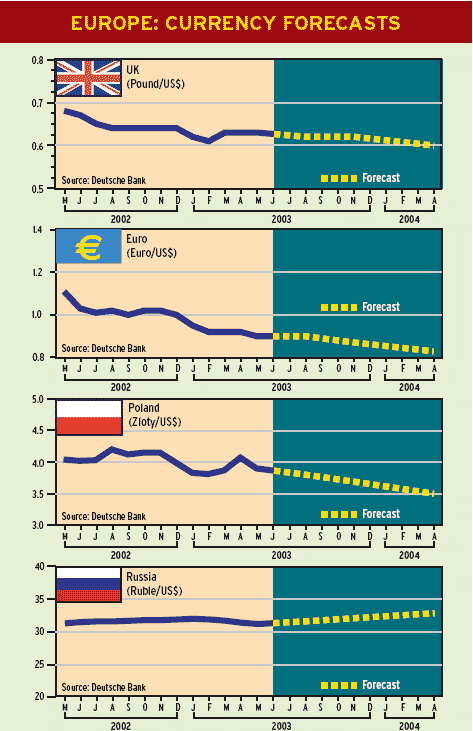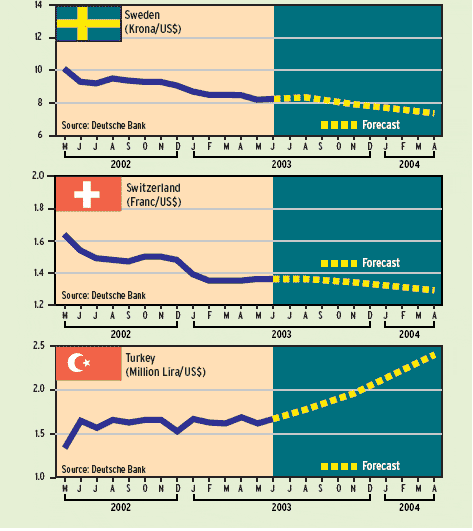 Gordon Platt