EUROPE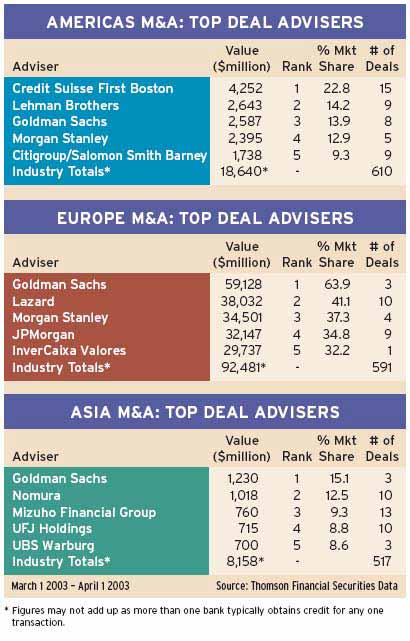 Gas Natural, Spains biggest gas distributor, made a hostile bid for the countrys largest electric utility, Iberdrola, but the future of the proposed $30 billion deal remains highly uncertain.
Hostile bids are frowned upon in Spain, and have seldom succeeded. Iberdrolas board flatly rejected the offer, and a company spokesman called it very bad and very far from reflecting the real value of the company.
Spains national energy commission is studying the takeover bid, which Gas Natural says would not harm competition in the country but would instead encourage liberalization of the energy sector.
If the deal is successful, it would create a company ranking among Europes biggest utilities and one able to market gas and electricity jointly. Gas Natural Chairman Antoni Brufau says the combined company would sell $5 billion of energy assets to win the approval of competition authorities.
Brufau, a native of Catalonia, also heads La Caixa, Spains largest savings bank, which owns 31% of Gas Natural. Repsol YPF, the Spanish-Argentine oil and gas company, which has a 24% holding in Gas Natural, opposed the hostile takeover of Iberdrola.
Brufau went ahead with the bid on March 10, following a stormy board meeting, at which Gas Natural Chief Executive Jose Luis Lopez Silanes broke ranks with Repsol, which had appointed him to a four-year term. Repsol said Lopez Silanes would not be reappointed when his term expires this month.
La Caixa, which also holds 10% of Repsol, fully supported Gas Naturals bid for Iberdrola. The offer is conditional on winning approval of investors holding 75% of Iberdrolas shares.

Olivetti Plans Merger With Telecom Italia

Marco Tronchetti Provera, who is chairman of Telecom Italia and Olivetti, proposed merging the two companies by exchanging Olivetti stock for the 45% of Telecom Italia that Olivetti does not already own.The merged company would keep the Telecom Italia name.
Tronchetti Provera says the $29 billion stockswap transaction would give Olivetti access to Telecom Italias cash flow, which it could use to pay down debt.
A group of 70 Telecom Italia minority shareholders hired Brussels-based shareholder rights group Deminor to demand better terms. Olivetti offered seven new ordinary shares for each share of Telecom Italia.

ASIA


Merger Activity Picks Up in China

Chinas sustained economic growth, low-cost manufacturing and market liberalization are driving a boom in mergers and acquisitions, says Richard Irvine, Shangai-based Asia- Pacific leader of transaction services at PriceWaterhouseCoopers.
PwC is the largest provider of M&A; services such as due diligence and valuations in China, where it has 4,300 professionals located in 10 offices. New rules are changing how deals get done in a market that is both marketfocused and state-dominated, Irvine says.
Shawn Wang, a PwC director based in Beijing, says there is a need for the many small companies in China to consolidate to create synergy. Corporate restructuring and an improving legal framework are encouraging cross-border transactions, he says.