GLOBAL DEPOSITARY RECEIPTS


Study Finds ADR Issuers Are Unfazed By Sarbanes-Oxley


THE AMERICAS

The corporate-governance standards demanded by the Sarbanes-Oxley Act are not causing issuers of American depositary receipts to avoid the US market, according to a new study.
The survey of 143 ADR issuers from 43 countries found that 94% either have or plan to install the necessary internal controls that meet Sarbanes-Oxley standards, even though some of the respondents may not be required to comply.
Only half of those surveyed believed the US has more-rigorous governance practices than their companys home country.
It is encouraging that the survey showed ADR issuers are not likely to exit the US market due to recent corporate- governance reforms, says Christopher Sturdy, managing director and head of Bank of New Yorks ADR division.
In fact, there is clearly a strong desire to maintain and improve their presence in the US market and to engage with US shareholders,Sturdy comments.
New York-based consultants Broadgate Capital Advisors and Ohio-based Value Alliance worked together with Bank of New York to conduct the survey.
Slightly more than half of the companies surveyed have their ADRs traded on the New York Stock Exchange. Some 32% of the respondents said they voluntarily follow Regulation FD on fair disclosure and uniformly share all communications with shareholders.The US Securities and Exchange Commission adopted Regulation FD in 2000, two years before Sarbanes-Oxley was enacted.
Some 82% of the respondents said they believed that financial transparency is very important to the performance of their stock, and only 2% believed it was not.
I was impressed by the respondents broad recognition of corporate-governance issues and their desire to do the right thing as reflected in their attitudes toward shareholders, internal controls and financial transparency, says Eleanor Bloxham, president of Value Alliance.
Some 27% of the companies surveyed said they hold ad hoc meetings with shareholders as needed, and 17% hold regular meetings with selected shareholders to discuss governance issues.
Half of those surveyed said that US corporate and global governance standards will be the same or almost the same in five years. Nearly 90% said they would welcome a move by the Financial Accounting Standards Board to make US accounting standards conform to those of the International Accounting Standards Board.

Two Latin IPOs Pick Up the Beat

Initial public offerings from a Chilean retailer and a Mexican homebuilder raised a total of approximately $480 million, raising hopes that Latin American companies will return in force to the market.
Cencosud, which is rapidly becoming one of the biggest retailers in South America, raised about $330 million in a heavily oversubscribed IPO in Santiago, Chile, and in New York.
Some of the proceeds will be used to finance Cencosuds planned purchase of the Disco supermarket chain in Argentina from Ahold of the Netherlands.
Mexicali, Mexico-based Urbi Desarrollos Urbanos raised about $150 million in a deal that was about three times oversubscribed.
Source: Depositary banks

UK Biotech Firm Launches Program


EUROPE

GeneMedix, a UK-based biopharmaceutical company with operations in Europe and Asia, launched a Level I American depositary receipt program with Bank of New York as depositary.
The company has joint London and Singapore stock exchange listings. One ADR is equivalent to one ordinary share.
GeneMedix plans to file Form 20-F with the US Securities and Exchange Commission as part of its next step to upgrade to a Level II program and a listing on Nasdaqs Small Cap market.This will require the company to conform to US accounting standards and full SEC compliance.
GeneMedix specializes in the development of biogenerics, or generic versions of currently marketed biopharmaceuticals, such as interferon beta for the treatment of multiple sclerosis, and recombinant insulin for the treatment of diabetes.
Cable & Wireless Selects Depositary
London-based Cable & Wireless, a telecommuni-cations company with customers in 80 countries, selected JPMorgan Chase as successor depositary bank for its American depositary receipt program.
The ADRs trade on the New York Stock Exchange under the symbol CWP. One ADR is equivalent to three of the companys ordinary shares, which are listed on the London Stock Exchange.

Online Game Firm Issues ADRs


ASIA

Shanghai-based Shanda Interactive Entertainment, Chinas largest operator of online games, raised about $150 million in an initial public offering.
The company sold 13.9 million American depositary receipts. Bank of New York was selected as depositary for the ADR program. Each ADR represents two ordinary shares.
Shandas online games include traditional and roleplaying games, many of which allow numbers of people to compete against each other over the Internet.

Korea Electric Picks JPMorgan

Seoul-based Korea Electric Power chose JPMorgan Chase as successor depositary for its New York Stock Exchange- listed ADR program.
Two ADRs are equivalent to one share of common stock.
Korea Electric, or KEPCO, is the only company engaged in the transmission and distribution of electricity in South Korea.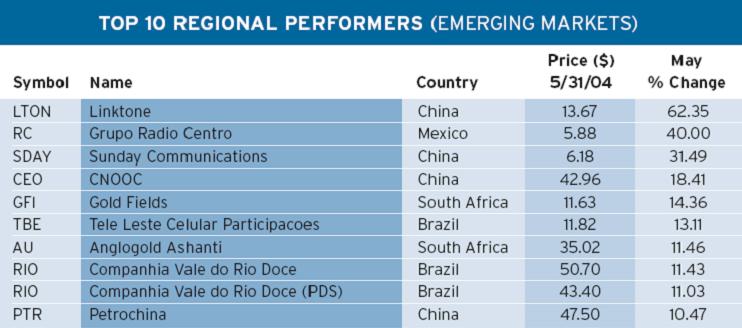 Source: Bank of New York

Source: Bank of New York

Source: Bank of New York

Source: Bank of New York

Gordon Platt