MERGERS & ACQUISITIONS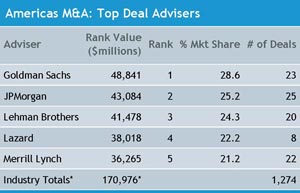 Even before AT&T; announced plans last month to buy BellSouth for $67 billion in stock, the pace of mergers and acquisitions worldwide in 2006 was keeping pace with the same period last year, which was a very good year for corporate takeovers.
Announced global M&A; activity totaled more than $468 billion in January and February, matching the volume reached in the first two months of 2005, according to Dealogic. Europe-targeted M&A; more than doubled from the same period a year ago, with the utility and energy industry the most active sector in the first two months of this year. The largest announced transaction in the two months was German utility E.Ons $57 billion bid for Endesa of Spain in what would be the largest utility acquisition ever. The offer trumped an existing offer for Endesa from Spains Gas Natural.
Worldwide announced M&A; rose to more than $2.7 trillion in 2005, representing an increase of 38.4% from a year earlier, and the busiest year for M&A; since 2000, according to Thomson Financial. Demand for energy assets and a consolidation in the telecommunications industry are keeping the M&A; boom on track in 2006.
AT&T;s acquisition of BellSouth would give AT&T; total control of Cingular Wireless, a joint venture of the two companies, and would represent another big step toward putting Ma Bell, the former AT&T; monopoly that was split up in 1984, back together again.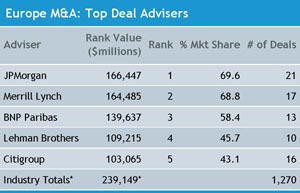 Representative Ed Markey of Massachusetts, the ranking Democrat on the House Subcommittee on Telecommunications and the Internet, described the deal as a mother and child reunion. The combined company would have 71 million local phone customers, 54 million wireless subscribers and 10 million broadband subscribers in 22 states.
AT&T;, in its current incarnation, was formed last year when SBC, formerly known as Southwestern Bell, bought the long-distance carrier and adopted the AT&T; name.
As the consolidation of the US telecom industry continues, Europe is experiencing a wave of mergers, many of them cross-border acquisitions. Companies in Europe are emerging from a period of restructuring and are seeking to boost growth by taking over other companies.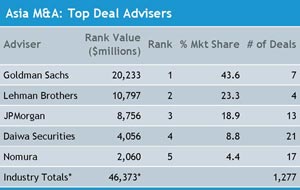 January 1, 2006-March 1, 2006
Source: Thomson Financial Securities


Data
* Figures may not add up as more than


one bank typically obtains credit for any one transaction.

ermanys E.On says its purchase of Madrid-based Endesa would create the worlds leading power and gas provider, with 50 million customers in 30 countries. The deal would extend E.Ons operations into Latin America for the first time.
The Spanish government moved quickly to prevent E.Ons acquisition of Endesa. It passed a law that would allow regulators to veto foreign takeovers of utilities.
Meanwhile, French state-owned Gaz de France announced plans to merge with Suez to create Europes second-largest energy utility. The government-brokered deal was designed to block an attempt by Italy-based Enel to bid for Suez, which owns Belgiums Electrabel power company. Belgiums energy regulator CREG wants Suez and Gaz de France to divest most of their gas and electric businesses in Belgium if they go ahead with the merger.
In a transatlantic power deal, National Grid, a British utility, agreed to acquire Brooklyn, New York-based KeySpan, which serves more than 1 million customers on Long Island and supplies one-quarter of New York Citys power needs. The transaction valued KeySpan at $11.3 billion, according to Thomson Financial.
KeySpan was formed in 1998, when KeySpan Energy, parent of Brooklyn Union Gas, merged with portions of Long Island Lighting.










Top Mergers and Acquisitions (February 1, 2006 March 1, 2006)





Gordon Platt