CORPORATE FINANCING NEWS / CORPORATE DEBT
The high-yield bond market in the United States has revived, thanks in part to the Federal Reserve's half-point interest rate cut on September 18, with some companies able to double the size of planned note issues due to strong demand and with fewer borrowers being forced to offer concessions to get deals done.
US high-yield new-issuance volume totaled $6.55 billion in September, up from $565 million in August, according to Montpelier, Vermont-based KDP Investment Advisors. As confidence returned to the market, spreads of high-yield issues over US treasury securities narrowed sharply.
The market for lesser-rated companies virtually dried up during July and August amid the spillover from the subprime mortgage crisis, but more normal conditions returned to the market in the second half of September after the Fed cut rates more aggressively than some market participants expected.
"Credit markets have tentatively improved in recent weeks after a surprising period that threatened financial stability," Steven Wieting, senior economist at Citi, said in a report issued on September 28. "Nearly driving over a cliff and veering away provides a completely different outcome than going over it," he said. "If financial markets remain healthy enough to distinguish between the weak and strong credits, and weak or strong profit prospects, the potential yet remains that the US housing downturn can be remarkably contained to a sector-specific issue," he said.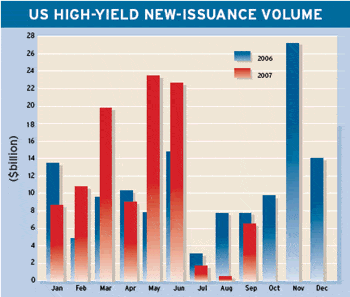 The biggest high-yield note offering in September was a $2.35 billion three-part private placement by Biomet, which is based in Warsaw, Indiana, and makes products used by orthopedic surgeons for hip and knee implants. The offering enabled Biomet to close on its $11.4 billion acquisition by a private equity consortium, including affiliates of the Blackstone Group, Goldman Sachs Capital Partners, Kohlberg Kravis Roberts, and TPG.
Apart from the fact that the Biomet notes will be used to fund a leveraged buyout, the issue also was significant in that it included a tranche of payment-in-kind, or PIK, toggle notes. The PIK notes, in effect, allow the borrower to pay down the obligations by issuing more debt and were common during the easy-money days seen earlier this year. Banc of America Securities, Goldman Sachs, Lehman Brothers, Merrill Lynch and Wachovia Securities were the joint bookrunning managers for the sale.
A day after the Fed's September 18 rate cut, Cary, North Carolina-based R.H. Donnelley, the biggest independent publisher of Yellow Pages telephone directories, sold $1 billion of high-yield bonds to repay debt. The offering in the private placement market was increased from an initially planned $650 million. The proceeds will be used in part to fund a tender offer for $600 million of outstanding notes with restrictive covenants.
Newspaper owner Quebecor Media, based in Montreal, issued $700 million in notes, increased from an originally planned $400 million, to pay down the bridge facility used to fund its purchase of Osprey Media Income Fund in August.
Boston-based American Tower, which owns and operates broadcast and wireless communications sites, doubled its planned offering of $250 million senior unsecured notes to $500 million based on market demand.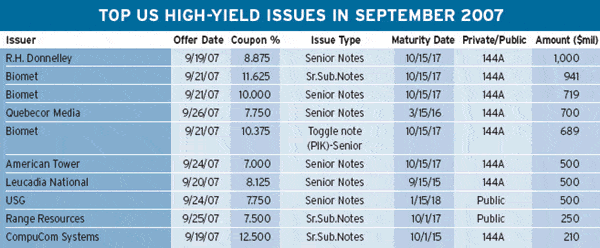 Gordon Platt