MERGERS & ACQUISITIONS
By Gordon Platt
The statistics on global dealmaking activity show no signs of improvement, despite some recent easing of the credit crisis and widespread opportunities for investment in distressed sectors. The value of worldwide mergers and acquisitions in the first half of this year declined 40.2% from the same period of 2008. The value of fees earned by investment banks on financial advisory assignments fell by 57.6% in the same period, according to Thomson Reuters.
Cross-border merger activity declined by 54.5% during the first half of 2009, with little relief in sight for the remainder of this year, analysts say. Limited access to syndicated loans to finance large transactions will continue to curb M&A; activity in the months ahead, with a few large, bellwether transactions by adventurous dealmakers willing to operate in a high-risk M&A; environment, according to a report by the New York-based transaction services practice of PricewaterhouseCoopers.
Among the riskiest types of deal activity in the current recessionary environment are cross-border transactions, the report says. Nevertheless, there will be some extremely opportunistic situations or mergers of necessity, such as when a company's key suppliers are going out of business and it needs to strengthen its supply chain, it says.
"Because this recession has been global and because all of the government stimulus packages are not created equal, it is likely that emerging markets like China and India will accelerate more quickly than other economies," says Robert Filek, a partner at PricewaterhouseCoopers. "We would expect that we will see an increase in Chinese acquisitions of US and European companies," he says.
Some of the deals that get done in the next 18 months could turn out to be the most lucrative of the past several decades, Filek says, but rigorous due diligence will be critical and the risks will be high, he adds.
Emerging market countries will continue to focus on commodities, says Greg Peterson, another partner at PricewaterhouseCoopers. "If you look at acquisitions coming out of Asia, they tend to be very strategic and centered on transport and commodities because both are critical to continued growth," Peterson says. "China in particular has the capital to pursue those areas aggressively."
During the first half of 2009, dealmaking was marked by continued government investments in major financial institutions, as well as increased activity by government-controlled corporations, according to Thomson Reuters.
Investments by government entities totaled $197 billion in the first six months of this year, or a record 20.9% of worldwide M&A.; Standalone funds that make investments in distressed assets have raised billions of dollars in capital that will be deployed to purchase debt or equity or to make acquisitions, Peterson says. "You have a host of private equity players who know how to do distressed [asset acquisitions] and do it well," he says. "Overall, the private equity funds have in excess of $1 trillion waiting to be deployed, but it will not be done without discipline."
Some funds will buy debt as a means of gaining control of a company, or as a way to be in a lead position through bankruptcy proceedings, Peterson says.
Private equity funds reported major declines in M&A; activity in the first half of 2009, according to Thomson Reuters. The $32.9 billion in worldwide deals announced in the first half was the lowest for the first six months of any year since 1997 and was down 79% from the same period of 2008. Healthcare was the leading industry sector targeted for acquisitions in the US in the first half of this year, with $131 billion of transactions, followed by financial services' $38 billion total.
Government investments in European targets totaled $140 billion, which represented a record 45% of the total M&A; activity in Europe in the first half.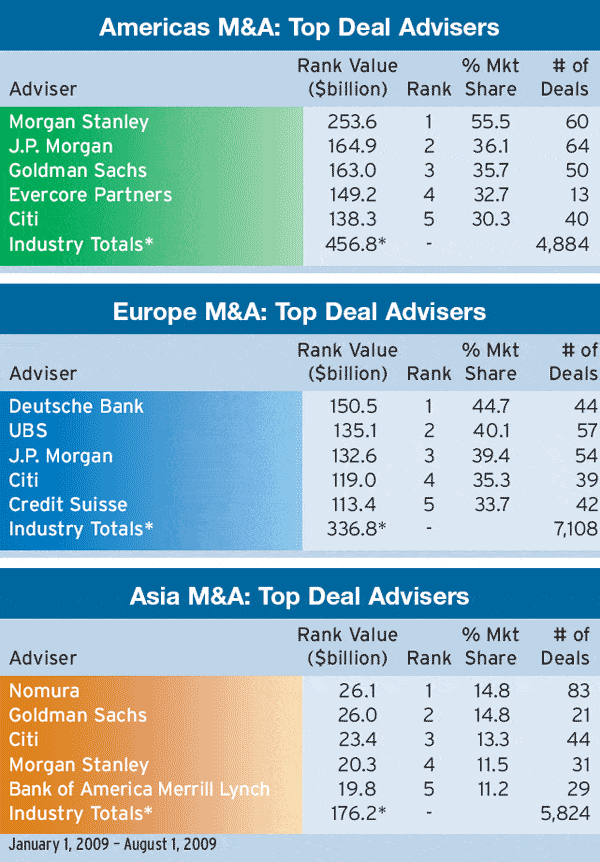 *Figures may not add up as more than one bank typically obtains credit for any one transaction. Source: Thomson Reuters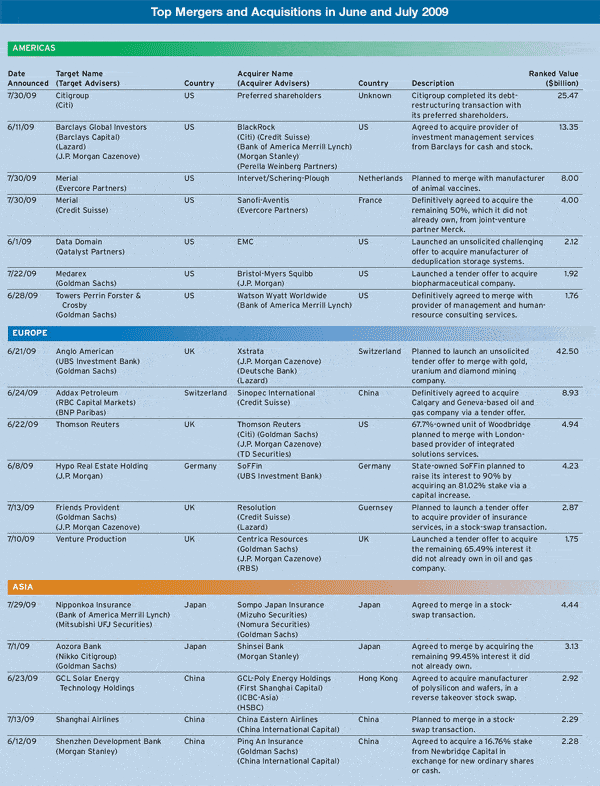 Source: Thomson Reuters