Asia

If weakness in the Japanese stock market continues, this could be troublesome for the yens prospects, says Bilal Hafeez, head of foreign exchange strategy at Deutsche Bank in London.
The yens moves against the dollar have been highly correlated for most of this year with the ups and downs in the Nikkei stock average, Hafeez says. A slowdown in the growth rate of corporate earnings could portend future declines in Japanese stock prices, he says.
The yen failed to get much of a lift from the Japanese governments increase in its growth forecast for the fiscal year ending next March 31. In late July, the governments cabinet revised upward its forecast for growth in gross national product in the current fiscal year to 3.5% from 1.8%.
The government pared its forecast of deflation to nearly zero and said that an increase in consumer spending is expected to boost growth.
Meanwhile, expectations of action by China to revalue the yuan have eroded even further, according to analysts at Brown Brothers Harriman in New York.
The premium on NDFs, or non-deliverable forwards, reached its narrowest point of the year to date in late July at 1.25%, which was down from more than 6% earlier in 2004.
Expectations for the yuan, as reflected in the NDF premium, have diverged from overall expectations about the dollar, according to the BBH analysts.
Late last year and in early 2004, the premium seems to have been mostly the inverse of a discount on the dollar, they say. In recent months, however, that relationship has broken down. Expectations about Chinese policy, not the dollar, are driving the NDF rate.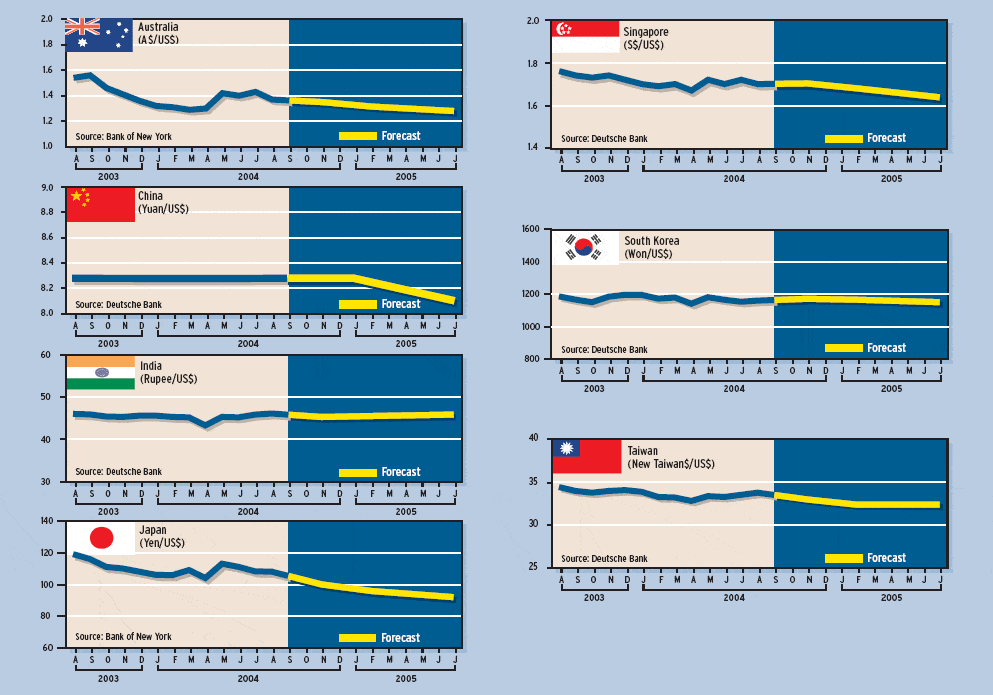 Gordon Platt