CEOs are saying, We want to understand our customers better today and use technology to be more effective.


UNITED STATES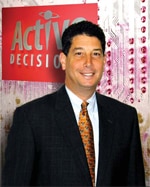 Jeff Dunn of Active Decisions

Jeff Dunn says hes in the business of selling companies a technological version of a dream sales rep or agent.Our software acts like the best sales person a company has ever trained and does so on a consistent basis, boasts Dunn, chief executive and president of Active Decisions, a San Mateo, California-based vendor of guided selling software and hosted solutions.
Like a top sales person, Active Decisions software listens to the client, knows all the answers to product questions, asks questions to draw out what the customer would like and recommends a product, which the customer often ends up buying. It also gives sales staff tips and recommendations for convincing clients to buy.
Active Decisions guided selling (also called interactive selling) technology is being used by corporate customers to sell mortgages, cell phone plans, mutual funds, digital cameras and even dog food on the Web, through call centers and in stores or bank branches.The company has amassed an impressive list of clients, including Amazon.com, Purina, QVC, Palm, Sony,The Wiz,Yahoo!, Colorado-based FirstBank, General Electric and Charles Schwab.
Revenue for Active Decisions increased nearly fourfold in 2002, off of an admittedly small base, and Dunn expects to see similar performance this year. The private company doesnt disclose specific revenue figures, but annual sales are still somewhere below $20 million. Retail companies account for 60% of Active Decisions sales, and financial firms total 20%, reflecting the companys focus on these two industries. It has 35 customers in all, a figure it wants to increase to 85 within a year, according to Dunn.
The amount that companies pay Active Decisions varies from $100,000 up to $2 million, depending on such variables as the size of the firm and how many products and sales platforms are involved.
A key selling point has been that the software or hosted solution is easy to deploy (it can take as little as several days) and can provide a return on investment in just a few weeks due to high rates of converting shoppers into actual buyers.
In addition, the Active Decisions guided selling technology also leads to fewer product returns, the company claims. The company polled 3,128 consumers who completed a guided selling quiz (using Active Decisions technology) before buying something at a retailer.The survey found that 0.5% of consumers ended up returning the purchased item, compared to an average return rate of 5%. The reason was simple: People became more educated and got what they wanted, says Dunn.

How It Works

The guided sales technology uses proven theories about customer characteristics and behavior, as well as statistical algorithms and detailed product information and data to walk buyers through the comparison-shopping process. Companies deploying Active Decisions software also receive detailed data on customer buying preferences, which is information that firms can use to develop future products and marketing and sales efforts.
One of Active Decisions customers is MicroWarehouse, a $2 billion-a-year retailer of computers and related products. MicroWarehouse uses Active Decisions Active Sales Assistant hosted technology service to provide customers with purchase recommendations for its most popular productsdesktop computers, notebook computers, ink jet printers, laser printers and digital cameras. These are also items about which consumers have complex decisions to make because of the various technical specifications and terms they have to navigate.
It works like this: Consumers are prompted through a series of questions on MicroWarehouses Web site to determine what product features and specifications (resolution,memory, zoom capabilities on a digital camera, for example) are important to them and what theyre willing to pay.The site, powered by Active Decisions technology, then recommends a list of products, ranked by how closely they fit what the customers said they were seeking. Customers are also presented a grid of features to compare the products against one another.
In the two months since deploying Active Decisions technology, MicroWarehouse has seen a higher rate of Web site visitors completing their shopping with a purchase. If you come to our site and go through this experience, youre more likely to buy than if you dont, says Brian Burch, executive vice president of marketing and e-commerce at MicroWarehouse, based in Norwalk, Connecticut.He declined to provide precise numbers on increased sales due to using the technology.
Burch lauded Active Decisions for its customer service. They are customer obsessed.We are in constant touch.Theyre very interested in what I think and consult with me about new features, says Burch.Theyre very invested in their customers, and I think that bodes well for their future.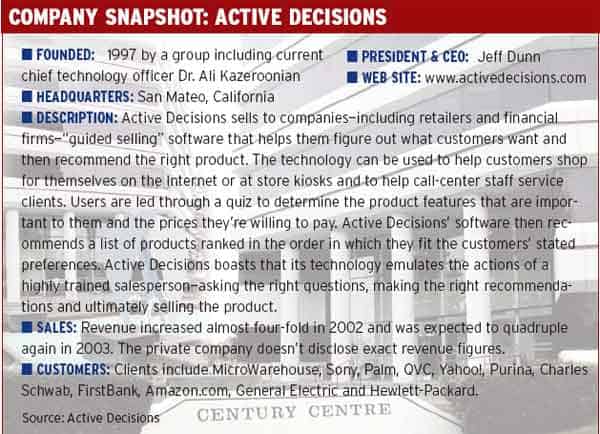 Challenges

Even as Active Decisions technology helps companies make just the right sales pitch, it is finding its own sales effort more challenging amid the tough technologyspending environment and sagging business climate. Closing deals is not easy, and price cuts are often needed to do the job. The economy is still a challenge. Some companies say,We like what youre doing but just cant even consider it right now, Dunn says. We certainly do have customers that put financial pressure on us to lower prices. We clearly are affected by the economic pressure that so many companies are under, he adds.
Against the backdrop of sluggish financial markets, the company also found it more challengingto raise the $13.1 million in private financing it secured last summer.The funding was led by Liberty Partners and included investments from customer Charles Schwab and several venture capital funds that invested in the firm earlier.
Despite the challenges,Active Decisions has aggressive goals for the coming year. In addition to seeking to triple its customer base and quadruple revenue, the firm plans on expanding into Europe, Dunn says.Even in this difficult environment, CEOs are saying,We want to understand our customers better today and use technology to be more effective, he says.
Active Decisions, until now reliant on the retail and financial services industries, plans to diversify into the telecom, travel and healthcare sectors. It will modify its software for those industries and boost marketing efforts.
The companys competitors include San Jose, California-based Selectica, which sells software that configures product, service and pricing functions and data on a single platform and guides users through the buying process. Another is VacationCoach, a Maynard, Massachusetts-based vendor of an interactive selling and online customer service technology platform geared specifically for the travel industry.
But perhaps the biggest rivals for Active Decisions are companies thinking they can build guided selling technology on their own.Id say 95% of our competition comes from in-house organizations that see our technology and say, That looks simple; we can build it, says Dunn, who adds that he hopes to keep proving them wrong.

Adam Rombel