RUSSIA

Beating covetous Western oil interests to the prize, Russias largest oil company, Yukos, agreed to buy Sibneft, another major Russian oil firm, creating what participants say will be the worlds fourth-largest private oil producer.
The new company, YukosSibneft Oil, will control the largest proven reserves of any private oil company. Russias oil production, which is growing at a record rate, is a close second to that of Saudi Arabia.
Yukos agreed to acquire a 20% stake in Sibneft for $3 billion in cash, and to raise that stake to 92% in a stock-swap transaction valued at $13.6 billion. Furthermore,Yukos was granted an option to acquire the remaining 8% stake in Sibneft.
The deal was by far the largest takeover in Russian history, and came only ten weeks after British Petroleum acquired half of Russias third-largest oil company,Tyumen, for $6.8 billion.
Sibnefts owners, including entrepreneur Roman Abramovich, governor of the far eastern region of Chukotka, will own about 29% of YukosSibneft. Mikhail Khodorkovsky, Yukoss principal owner and chief executive, will be CEO of the new firm, while Eugene Shvidler, Sibnefts president, will be chairman.
With a market capitalization of about $35 billion, YukosSibneft will be Russias biggest company. In announcing the merger, Khodorkovsky said the company plans to develop reserves in eastern Siberia and the Arctic shelf.
The company is expected to build a pipeline to the northern port of Murmansk to serve the lucrative US market. Murmansk was Russias vital link to the Western world during World War II.

THE AMERICAS


First Data to Merge With Concord EFS

Denver-based First Data, the credit-card processing company that owns worldwide money-transfer business Western Union, agreed to buy Memphis, Tennessee-based rival Concord EFS for $6.9 billion in stock.
The companies have been involved in on-again, off-again merger talks over the past five years.
The merger, if approved by antitrust authorities, will give First Data a 69% share of the market for debit-card transactions that require a personal identification number.The debit-card business is growing much faster than credit-card usage.
First Data is a majority owner of the NYCE network of automated teller machines. Concords ATM business, which includes the STAR,MAC and Cash Station brands, is the nations largest with about 50,000 machines, most operated on behalf of financial institutions.

ASIA


Japanese Banks Take Stake in Trading Firm

A creditor group of Japanese banks planned to acquire 1 billion newly issued preferred shares convertible into an 83% interest in Nissho Iwai Nichimen Holdings.
The holding company was formed by the merger in April 2003 of trading companies Nissho Iwai, which trades mostly steel products, and Nichimen, which specializes in chemicals and energy.
The creditor group comprises UFJ Bank, Mizuho Corporate Bank, Bank of Tokyo-Mitsubishi, Resona Bank, Mitsubishi Trust & Banking, and Nochu Bank.
The initial conversion price is equivalent to $2.19 billion. Conversion periods of the preferred shares run from 2004 through 2028.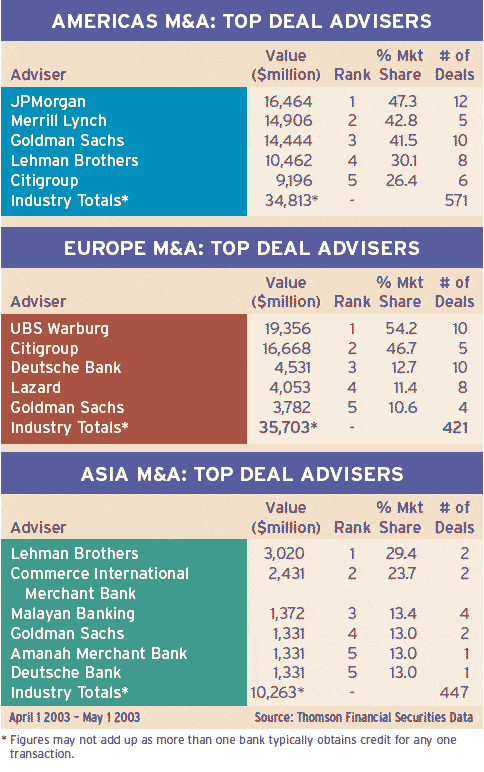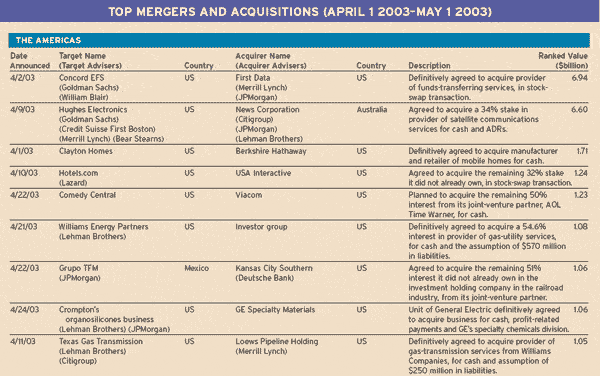 Gordon Platt