Multinationals And Nafta
Much lambasted for its effects on the poor, Nafta has proved successful at opening the North American markets—and promoted corporate growth in the process.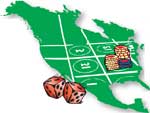 As the US presidential primary campaigns neared their conclusion in March, the North American Free Trade Agreement (Nafta) suddenly found itself in the political limelight. Hillary Clinton and Barack Obama needled each other over their attitudes toward it while each claiming to support the poor Americans whose jobs had been exported as a result of Nafta.
Both Democratic contenders have assured US trading partners that they do not oppose free trade per se, despite making increasingly critical comments about multilateral free trade agreements (FTAs), including the recently enacted Central America Free Trade Agreement (Cafta). And while the Republican presidential candidate, John McCain, is a Nafta-booster, candidates of both political parties turned the treaty into a whipping boy, which is why many think that the treaty may be doomed if a new White House occupant threatens withdrawal in order to apply pressure on Mexico to change economic and immigration behavior.
While the political tealeaves are being read and re-read on this issue, the fact remains that the general US public has made up its mind. NBC/Wall Street Journal polling in September 2007 found 59% thought current trade policies have been bad for the US economy. The study found that among Republican voters a two-to-one ratio believe free trade is bad for the US economy.
This issue has been causing political upheaval for some time. A Democracy Corps poll during the 2006 congressional elections found trade policy was the top priority among self-described Republicans who had considered voting Democratic during the 2006 election.
For the public at large, Nafta and its FTA siblings are not looking very attractive. A majority of polled citizens in both developing and developed countries now believe that international trade agreements must require governments to abide by minimum labor and environmental standards. This is according to a new survey of public opinion covering 10 countries. Last year's survey—by the Chicago Council on Global Affairs (CCGA) and WorldPublicOpinion.org—found support for these provisions was highest in the United States, Israel, Argentina and Poland. In those countries, nine or more of every 10 respondents said they favored such provisions. But more than eight of every 10 respondents in China, Ukraine and Armenia also said they supported the inclusion of minimum standards in trade accords. Of the remaining three countries covered by the survey, support was strongest in Mexico and weakest in India and the Philippines.
Continent-wide Discontent
Trade as a contentious centerpiece of a US presidential campaign is nothing new, but the unpopularity of this specific FTA is not restricted to the US: January 31, 2008, saw tens of thousands of farmers and activists protesting in Mexico's capital against Nafta provisions. While Nafta is based on the 1989 Canada-US Free Trade Agreement that was seen at the time as a landmark in setting higher standards in a range of areas, including agriculture, investment, intellectual property and services, it was dubbed a "death sentence" for Mexico's campesinos (farm workers) and indigenous peoples. It has encountered strong and sustained resistance from a broad spectrum of Mexico's population and was one of the catalysts for the Zapatista uprising. Critics argue that since it came into effect, cheap, subsidized US corn has flooded the market, sold at prices below the cost of production. Campesinos complain they cannot compete. Some analysts believe this has led to displacement, poverty and hunger for growing numbers of Mexican farmers.
For big multinational companies, the Nafta story is quite different, however. In an effort to ensure free trade, Nafta allows a company or investor from one signatory country to sue the government of another signatory country for actions or omissions that it claims interfere with its ability to make a profit. While unpopular with pressure groups who allege Nafta furthers the interests of corporations and limits a government's capacity to regulate its own economy for social, environmental or other reasons, they have enabled larger companies to spread their operations efficiently across the entire continent.
As such, Nafta's benefits have been tangible for multinationals. Robert Volterra, who heads the public international practice at the big corporate law firm of Latham & Watkins, says it was a big deal that companies "obtained the ability to import and export goods across the two North American borders at guaranteed low and lowering tariff levels." Volterra believes one of the key benefits is the protection that North American businesses get for their investments in other Nafta countries. They can sue other countries' governments for compensation if they believe that government has acted in a way that reduces their ability to make profits.
The auto giants are happy with Nafta. Earl Quist, the Washington, DC-based director of industry affairs with Toyota Motor North America, thinks that the auto industry in the three Nafta countries "is very well integrated these days: Parts, components and vehicles are made in Canada, Mexico and the US, and a huge volume of auto trade crosses the Nafta partners' borders every day," he says. He explains that Toyota's view is straightforward: "The reduction of duties to zero within the Nafta territory for products meeting local content requirements has facilitated that integration and supported its continuing growth." For motor vehicles, that requirement is 62.5% Nafta content, an aggressive standard that is an outlier compared with other FTAs the US has negotiated but a standard that has supported manufacturing investment within the region. Four years ago the US Trade Representative requested comments about proposals for liberalizing Nafta, including a provocative proposal for reducing the external tariffs of all three countries to zero. Toyota responded to USTR by favoring more liberalization.
Proof of Concept
Toyota's experiences in North America are testament to the potential benefits of Nafta. According to Quist, the company was not able to gain duty-free access to Mexico at first because it had not been manufacturing there when the treaty was signed. "That transition period delayed our entry to the Mexican auto market. Since its conclusion, however, we have been marketing Toyota vehicles there and are enjoying a growing market share." Toyota also produces body components and complete pickup trucks in Mexico now. Quist believes that, overall, Nafta has been a good deal for the North American auto industry. "Can it be made better? Sure," he adds.
Another key benefit for multinationals is Nafta's "friction reduction," says Ken Pierce, a partner at law firm Vinson & Elkins in Washington, DC. "There's been a relaxation in trade actions among Nafta partners as cross-border investments have created a more integrated North American market," he says. "This trend started about 10 years ago when US trade measures against Canada began to be lifted, a process now replicating itself with US measures against Mexico coming off at a high rate. This undefined but very real Nafta factor in trade cases certainly promotes growth and global competitiveness throughout the three."
Auto companies are not alone in their net-positive views of Nafta: Multinationals and their banks have also been special beneficiaries. The historic challenge of organizations dealing cross border has been the requirement to work with multiple banking partners in each country. According to Michael Gallagher, head of payments and cash management, North America, at HSBC, inefficiencies in servicing the corporate treasurer are "due to the surplus of links in the financial chain [with multiple parties involved], as well as different standards by various banks around product delivery and support." This has hindered multinationals from automating treasury processes and developing straightforward payment operations across the three Nafta signatory countries.
Banks Break Through Borders
Fueled by the increase in cross-border trade generated by Nafta, though, technology has broken down barriers. Gallagher says that banks are now working to get away from focusing on which particular currency a trade is executed in—Canadian dollar, Mexican peso or US dollar, for example—"and have standardized processes to support all currencies globally, giving relief to the multinational's back-office infrastructure and also allowing the company to do business globally with one bank—reducing risk, errors and costs."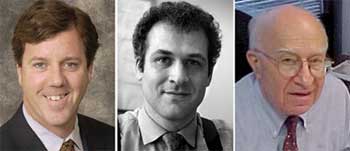 Gallagher (left): Banks have standardized processes to support all currencies.
Volterra (center): Naftas benefits have been tangible for multinationals.
Weintraub: Pressure is growing to renegotiate Nafta.
Thomas Cook at the global freight-forwarder American River International says, "The main reason for Nafta's success is that the reduction in duties and tariffs have facilitated investment, co-manufacturing and trade within all three." He thinks that Nafta allows the three countries to compete more evenly with and between each other and provides a more even playing field in some commodities and products. To some extent Nafta has replaced Mexico's much-maligned Maquiladoras program, which was an early attempt to reduce tariffs and other costs of cross-border trade, but Cook says that "in actuality, it has made it thrive."
Cook says that his multinational clients see only minor problems. "Documentation and customs issues still exist at the borders, particularly into Mexico," he says. "Origin, valuation and classification issues abound at all the border crossings, but also particularly into Mexico. Fair-trade issues, union concerns, regulatory dominance and specific industry problems exist. And immigration/border concerns, particularly between the US and Mexico, are big hot buttons."
Change on the Horizon
Sidney Weintraub of the conservative Center for Strategic and International Studies believes that, despite its popularity among corporations, Nafta will come under increasing political pressure. "There's been pressure in Mexico to renegotiate the agricultural provisions of Nafta, thus far rejected by Mexico's government because opening some provisions would open the entire agreement to renegotiation," he says. Hillary Clinton has suggested that Nafta be reviewed every five years for possible alterations. The revisions being proposed are calls for protection but focus on protection for different items. The pressure for change in Mexico focuses on corn and beans but in the US on manufactured items in which US firms cannot compete.
Weintraub contends that "the argument that revisions in Nafta may be needed is really a subterfuge to kill the agreement because a congressional majority to re-approve what is left could not be obtained in the current congress—and almost certainly not in the next congress after the November elections." If Nafta de facto ceased to exist, Weintraub argues, it would lead to an open season on trade restrictions that would substantially damage North American economic relations as well as political cooperation among the countries.
Nafta's future looks a bit different for one Washington, DC, commentator, Barry Lynn of the New America Foundation. "What we too often forget about Nafta is that it was conceived as a defense against the rise of trade blocs in Europe and Asia," he says. "As we discover in industry after industry that we've gone too far too fast in shifting production abroad—especially to Asia and especially to China—one of the more likely beneficiaries will be Mexico." All those protectionists in Washington might just decide that Nafta is just the tool they need to arrest the flow of American jobs to the Far East.

Gordon Feller