MERGERS & ACQUISITIONS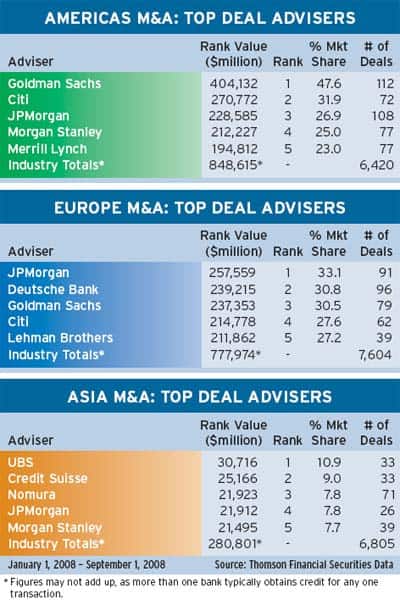 Europe passed the United States in corporate dealmaking in August thanks to two large transactions, including a spin-off and a hostile bid. The total of US mergers and acquisitions for the year to date of $849 billion, however, remains ahead of Europe's $778 billion, according to Thomson Reuters.
Geneva-based Richemont, the luxury goods group that owns Cartier and Piaget jewelry, agreed to spin off its stake in British American Tobacco (BAT) in a move prompted by tax changes in Luxembourg. Richemont, which is controlled by South Africa's billionaire Rupert family, and South-Africa-based Remgro jointly hold a 27% stake in BAT through R&R; Holdings. The proposed spin-off transaction was the largest in the world in August, with a ranked value of nearly $20 billion.
Richemont is the world's second-biggest luxury-goods maker after Paris-based LVMH Moët Hennessy Louis Vuitton. Goldman Sachs, Morgan Stanley and Lehman Brothers are advising BAT on the transaction.
Meanwhile, another Swiss company, Zug-based Xstrata, which has grown into a major mining company mainly through acquisitions, launched a hostile bid to acquire London-based Lonmin, the world's third-biggest platinum producer, in a deal valued at $9.27 billion. Lonmin rejected the proposal, calling it opportunistic following a decline of about 26% in the value of its shares in the past 12 months. While Lonmin has benefited from high platinum prices, it has failed to meet production targets due to power shortages at its South African smelter.
Xstrata, which acquired Toronto-based Falconbridge in 2006, primarily mines copper, coal, nickel and zinc and would like to enter the platinum and iron-ore businesses. Macquarie Capital Partners and Deutsche Bank are advising Xstrata, while Greenhill and Citi are advising Lonmin.
The biggest transaction announced in the US in August was Bank of Tokyo-Mitsubishi UFJ's twice-sweetened offer, valued at $3.7 billion, to acquire the 35% stake it did not already own in UnionBanCal. Morgan Stanley is advising the Japanese bank, while Credit Suisse is advising UnionBanCal, the San Francisco-based holding company for Union Bank of California. UnionBanCal accepted the bid, which was 27% higher than an initial offer by Mitsubishi in April.
Elsewhere in the US, Rhode Island-based drugstore chain CVS Caremark launched a $2.85 billion tender offer to acquire California-based Longs Drug Stores, which operates more than 500 retail pharmacies on the West Coast and in Hawaii. Lehman Brothers and Deutsche Bank are advising CVS Caremark, while JPMorgan is advising Longs Drug Stores.
US dealmaking activity got off to a strong start in September, with New York-based Altria entering a definitive agreement to acquire UST, the world's leading manufacturer of moist smokeless tobacco, including the Copenhagen and Skoal brands. The transaction is valued at approximately $11.7 billion, which includes the assumption of $1.3 billion of debt.
Altria said it received new committed bridge financing totaling $7 billion from Goldman Sachs and JPMorgan, which together with its existing credit facilities and cash was expected to be more than sufficient to fund the transaction. Altria also said it intended to access the public debt market to refinance a portion of its credit facilities. Philip Morris USA, a subsidiary of Altria, has issued guarantees for Altria's debt.
Standard & Poor's placed Altria on negative credit watch in response to the announced acquisition. "We believe that a debt-financed transaction would weaken Altria's credit-protection measures well below current levels that support its existing ratings," S&P; said.





Gordon Platt