Global Equity/drs
Records galore toppled in the depositary receipt market in 2007, and DR liquidity, prices and capital raising likely will continue to be strong in 2008, as growth continues in the big emerging market economies of Brazil, Russia, India and China, known as the BRIC countries. These four countries generated 58% of new entrants to the DR market last year, according to a report by JPMorgan.
The value of trading in DRs of all types nearly doubled in the first 11 months of 2007 from the same period a year earlier to a record $3.1 trillion, according to the bank's 2007 year-in-review report issued in mid-December. The volume of DR trading rose 55% to 85 billion shares. Capital raised in the form of DRs rose to a record $53.2 billion from January through November 2007.
Meanwhile, Brazil and Mexico are emerging as new regional centers for trading of depositary receipts issued by companies in neighboring countries. Russia and Japan also are working to build markets in so-called "local DRs."
"These local DRs are structured to tap emerging equity investors such as local pension and investment funds, as well as to provide locally denominated investment vehicles in markets where liquidity is increasing, such as Brazil and Russia," says Claudine Gallagher, global head of JPMorgan's depositary receipts group.
"In 2007 we started to see increasing interest in local DRs in several markets," Gallagher says. Argentina-based Banco Patagonia, for one, issued shares in Brazil as BDRs (Brazilian depositary receipts) as part of a three-part offering last July that also included American depositary shares and a concurrent offering in Argentina.
In April 2007 the Singapore Stock Exchange listed its first DR by a company based in India, Uttam Galva Steels. Last year also saw the rise of new markets such as Pakistan. After an absence of more than a decade in the international capital market, Pakistan launched two programs on the London Stock Exchange in the fourth quarter of 2006 and another in the fourth quarter of 2007. Vietnam's economy has been growing rapidly, and in 2008 JPMorgan expects the first Vietnamese company to use the GDR route to issue shares on an overseas exchange.
Almacenes Exito, Colombia's largest retailer, launched a GDR program last August that was the first primary offering of equity securities by a Colombian company outside of the home market in more than 10 years.
There also was activity from Africa in 2007, as GTBank became the first Nigerian company to list on the London Stock Exchange. "We also saw increased activity in the Middle East in 2007, and this is expected to be a key region in 2008," Gallagher says.
The Asia-Pacific region enjoyed continued strong growth last year, which was reflected in an increase in DR issuance. Some 25 China-based companies listed on the New York Stock Exchange or Nasdaq in 2007, by far a record.
Issuers in 33 countries established 150 new DR programs in 2007, according to The Bank of New York Mellon's annual year-end report on the industry. For the fifth consecutive year, Latin America finished as the best-performing region for DRs, as The Bank of New York Mellon's Latin America ADR index returned more than 50%. The bank's Brazil index rose 77%, as steelmaker CSN, diversified miner CVRD and Petrobras each more than doubled in price during the year. Elsewhere in the region, markets in Peru and Mexico also posted strong returns.
"Depositary receipts grew as a critical asset class and surpassed a number of major milestones in 2007," says Christopher Sturdy, executive vice president and head of The Bank of New York Mellon's depositary receipt division. "Exceptional activity from DR investors and issuers occurred in every region of the world this past year."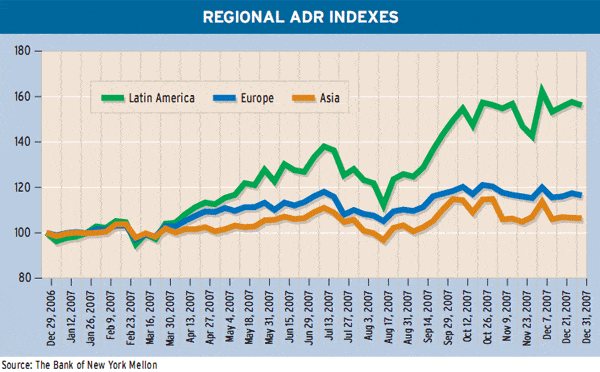 Gordon Platt