THE AMERICAS Devon Energy Moves Into Deeper Water

Oklahoma City, Okla-homa-based Devon Energy agreed to merge with Ocean Energy of Houston,Texas, in a $5 billion stock-swap trans-action.As a result, Devon Energy will become the largest US-based indepen-dent oil and natural gas producer.
Part of the rationale for the deal is that Devons gas-focused North Ameri-can assets will be comple-mented by Oceans inter-national and deepwater development and explo-ration projects.
With interests in 500 deepwater Gulf of Mex-ico blocks, Devon will be the largest indepen-dent deepwater Gulf leaseholder. It will also get Oceans West African oil and gas activities, as well as its operations in Egypt, Russia, Brazil and Indonesia.
Analysts generally agreed that the merger is a good deal for Devon. Without paying a signifi-cant premium, Devon will get a much-needed diver-sified portfolio of domes-tic and international assets with strong pro-duction growth over the next three to four years, says John Kartsonas, ana-lyst at Standard & Poors in New York.
Devon already has more than doubled in size in the past few years, follow-ing a string of acquisi-tions. In 2001 it bought Anderson Exploration of Canada for $3.4 billion and Mitchell Energy and Development of Texas for $3.1 billion.
Following its merger with Ocean, Devon will have about 2.2 billion barrels of oil equivalent proved reserves, with 84% in North America. Natural gas would account for two-thirds of production.
Larry Nichols, Devons chairman, president and chief executive, says the deal will allow the com-bined company to use sur-plus cash flow to fund exploration projects that Ocean would not have been able to develop on its own.
Following the merger, Nichols will retain the positions of chairman and CEO. James Hackett, chair-man, president and CEO of Ocean, will be named president and chief oper-ating officer.

EUROPE BPs Russian Deal Inflates M&A; Total

Europe passed the Ameri-cas in total mergers and acquisitions in February, led by BPs landmark deal to merge its Russian assets with those of Alfa Group and Access-Renova in a joint venture agreement valued at $8 billion.
Europe had a total of $27.6 billion of mergers and acquisitions in the month, against $21.6 bil-lion for the Americas, according to New York-based Thomson Financial.
Tyumen Oil, owned by Alfa and Access-Renova, will be the main produc-tion unit of the giant new Russian oil company. Lon-don-based BP was to invest $1.25 billion of assets, including its minor-ity stake in Sidanco. BP also agreed to pay $3 bil-lion in cash as well as make three additional annual payments of $1.25 billion each, payable in newly issued shares, for a 50% stake in the new company.
The deal will create Russias third-largest oil company after Lukoil and Yukos.The new company will have output of about 1.2 million barrels of oil a day.The Russian partners will appoint the chair-man, and BP will name the chief executive.
BPs investment equals all of the foreign direct investment in Russia for the past three years combined.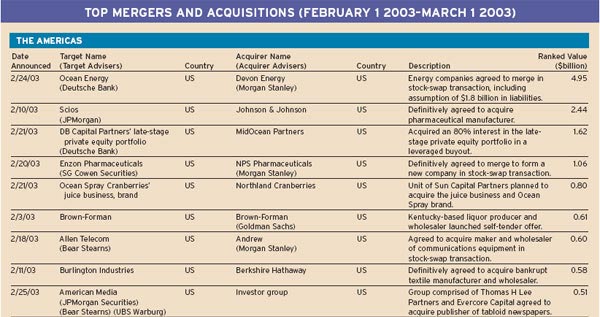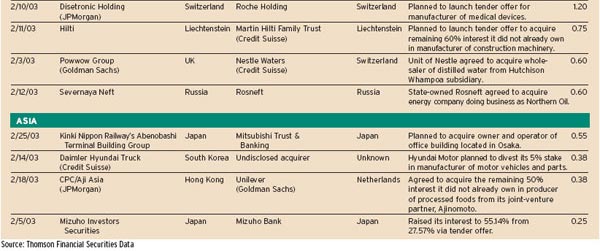 Gordon Platt