GLOBAL EQUITY/DRS
When state-owned China Railway, the world's third-biggest construction company, offered $3 billion worth of shares for sale in its initial public offering in Shanghai last month, it attracted more than $450 billion in subscriptions.
Clearly, Chinese investors were not worried about the fact that the Shanghai Stock Exchange's composite index declined nearly 20% in November, following warnings from analysts that the market was overheated after rising more than 100% in the year to date to a record high of 6124 on October 16.
China Railway's shares surged 69% in their December 3 debut, as investors scrambled to purchase a piece of the company that builds most of China's railways as well as many of its bridges, tunnels, highways, hydroelectric plants, ports, docks and airports. The company stands to benefit immensely from the government's record spending on infrastructure projects under its current five-year plan.
Analysts had a right to be nervous, however, after two recent flops by Chinese IPOs on the Hong Kong Stock Exchange. Heavy-truck manufacturer Sinotruck fell 15.7% on its first day of trading, and Sinotrans Shipping declined 13% in its Hong Kong debut.
Mainland investors were not only impressed with China Railway's fundamentals but eager to plow more of their money into the stock market at a time when the Chinese government is taking measures to curb the real estate boom and when the return on savings cannot keep up with rising inflation. Curbs on overseas investment leave few options other than the Shanghai and Shenzhen stock markets, overheated or not.
China Railway's subscription total was a record, exceeding the previous record set a few weeks earlier by the subscriptions for the $9 billion IPO of PetroChina, which made the state-owned energy company the first in the world with a $1 trillion valuation.
In its dual-track IPO, China Railway raised another $2.5 billion in a Hong Kong share sale. Meanwhile, China's Ministry of Railways raised $6.1 billion in its biggest-ever bond deal to raise money to modernize the country's rail system.
The success of the China Railway share offering bodes well for planned IPOs of other large state-owned companies. As Global Finance went to press, Shanghai-based China Shipping Container Lines was in the midst of a $2.1 billion domestic share sale to fund an expansion of its fleet of container ships. It already has 123 modern vessels that call on ports worldwide, as well as 30 ports in coastal China.
China Railway's combined $5.5 billion IPO was the fifth largest in Greater China in 2007, according to Thomson Financial. Mainland Chinese companies raised more than $90 billion in 180 IPOs in Shanghai, Shenzhen and Hong Kong in 2007.
Meanwhile, Greater China Precision Components, which makes cell-phone casings and components, floated its shares on the Frankfurt Stock Exchange on November 20, becoming the first IPO of a Chinese company to list on the Deutsche Börse's Entry Standard level. Entry Standard is an alternative market for international companies that competes with the Alternext of Euronext, the GEM of the Hong Kong Stock Exchange and the AIM market of the London Stock Exchange, as well as Nasdaq and the New York Stock Exchange.
Beijing will host the 2008 Olympic Games this summer, and analysts say the government will try its best to keep the economy and the stock market rising. Shang Fulin, head of the China Securities Regulatory Commission, said recently that his agency would continue to promote the development of institutional investors and encourage them to make long-term investments.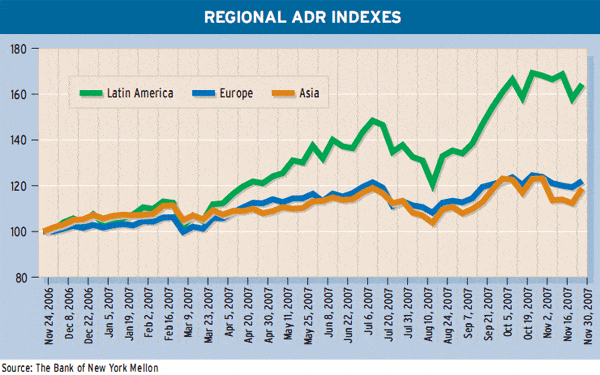 Gordon Platt