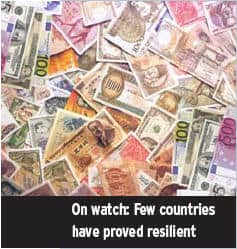 It's not just companies that are caught in the fallout from the credit crunch; countries are suffering, too. In the latest assessment from risk analysis firm Coface, 47 countries—including the US, the UK, Japan and Germany—have seen their financial-strength rating downgraded or placed on negative watch. According to Coface, only a handful of countries—including India, Brazil and China—remain "resilient." Of those three countries, India is in the best shape. With GDP set to rack up a 5% increase this year on the back of strong domestic demand, India is experiencing a less severe slowdown than many of its peers. Oil-producing North African and Middle Eastern countries are also weathering the crisis well due to their low levels of exposure to so-called "toxic" assets and their financial strength.
Brazil has maintained its rating from Coface since December 2006 and is benefiting from its diversified economy. Although China remains on "negative watch" based on overcapacity and reduced margins for companies, Coface has not downgraded it because of the Chinese government's recent efforts to stimulate the economy and increase manufacturing output and credit.
Russia has been the hardest hit of the BRIC countries, experiencing what Coface terms a "growth shock" that has pushed its GDP growth down from 8.1% in 2007 to an expected –3% in 2009.
François David, chairman of Coface, anticipates that the peak of the credit crisis will be reached in the first half of this year. "Our main scenario still forecasts the end of the credit crisis in the second half of 2009," he says, with the first signs of recovery emerging in early 2010.
Meanwhile, a new index has been launched to track the credit risk of government sovereign debt in leading industrialized countries. Developed by Credit Derivatives Research (CDR), the new Government Risk Index (GRI) looks at the credit default swap spreads of the United States, United Kingdom, Germany, France, Italy, Spain and Japan. Explaining the rationale for creating the index, Arthur Rosenzweig, CDR's president, says, "Rapidly increasing budget deficits and debt levels, nationalization of large failing financial institutions, deepening recessions, disproportionate foreign holdings—for example, by China—and loosening monetary policies have led many investors to seriously consider the possibility of a credit event by one of the major sovereign borrowers, or at least to speculate on their credit quality."
—Anita Hawser