DUBAI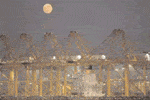 DP World's flagship port operation in Jebel Ali, Dubai
When DP World, the Dubai government-owned port giant that bought the UK's P&O; in March 2006, lists at the end of November (still pending as this issue of Global Finance went to press), raising around $4 billion, the deal will be the largest IPO from the Middle East open to international investors. It could even surpass the region's largest listing: the $4.1 billion float of Saudi Telecom in 2003, which was open only to domestic investors. As if that were not enough, the company has also chosen to list DP World solely on the Dubai International Financial Exchange (DIFX) rather than also listing in London as previously planned. The move is seen as a strong vote of confidence in the US dollar-denominated DIFX. Also owned by the Dubai government, DIFX was set up in 2005 but has struggled to build volume.
The government is sending a clear message that it wants to accelerate its bid to develop a finance industry in order to diversify its economy away from oil. It has decided that Dubai should become a financial hub for the Middle East, and, given its success in building a huge tourism industry from nothing in a decade, that just might happen. The government knows that to build a credible financial sector it needs international financial sector involvement, despite the vast amounts of money sloshing around the United Arab Emirates as a result of high oil prices. Hence the attention being given to DP World: Some commentators have gone as far as to say that the outcome of DP World's IPO could dictate the future of the finance sector in the Middle East.
Bankers involved in the deal, which is managed by Deutsche Bank, Merrill Lynch, Millennium Finance and Shuaa Capital, are confident that investors will not be put off by the listing's location. And if the IPO is a hit and DIFX's liquidity increases, a virtuous circle could develop: Increased investor demand would lead new companies to list, and a wider range of stocks would lure new investors to the market.
Already Emirates Airlines has given indications that it may choose to list on DIFX. While DP World could be valued at $21.6 billion, at the top of the offering range, Emirates Airlines is thought to be worth up to $30 billion. And, perhaps more important, it is a global brand name. Emirates is expected to raise up to $9 billion from its IPO. If the listing comes sooner rather than later, DIFX may gain the momentum it needs to help realize the Dubai government's ambitions.
Laurence Neville