GLOBAL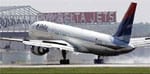 Hard landing: Delta's merger with Northwest may make it the biggest airline, but analysts question its prospects.
The world's biggest airline in terms of traffic will be created if the proposed merger of Delta Air Lines and Northwest Airlines can get past squabbling pilots. Whether the marriage of equals will succeed, however, is open to debate at a time when the entire airline industry is being buffeted by soaring fuel costs and slowing global economic growth.
The turbulence is especially strong in the United States, where the slumping economy and the credit crunch are making it difficult for airlines that get into trouble to secure continuing financing. Denver-based Frontier Airlines filed for protection from its creditors on April 10, becoming the fourth US carrier to declare bankruptcy in just two weeks.
Across the pond, all-business-class Silverjet, the struggling UK carrier that bills itself as "the world's first airline to go carbon neutral," announced that it was in talks with undisclosed potential buyers. Silverjet's ticket prices include a mandatory donation to climate-friendly causes. Budget carrier Easyjet, based in Luton, England, warned that higher fuel costs were hurting its earnings. "Of course, the price of fuel will hit all airlines, and we remain convinced that we shall emerge as winners in a high-oil-price environment," the carrier added.
The International Air Transport Association (IATA) lowered its industry profit expectations in April for the second time in four months. Airlines are attempting to offset rising fuel costs by increasing ticket prices at a time when operational performance is dismal and quality of service is hitting new lows in consumer surveys.
One bright spot is Asia, where still-strong economies are boosting air travel, and IATA expects carrier profits for the region to increase to $900 million this year from $600 million in 2007. Nonetheless, Oasis Hong Kong Airlines, which offered low-fare flights between Hong Kong and London, ended its services last month and applied for liquidation.
Gordon Platt