GLOBAL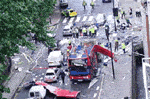 Firms are unprepared for risks such as terrorist attacks
Major companies are still struggling to come to grips with risk management, despite recent high-profile events such as the September 11 attacks, the London bombings, the threat of a global flu pandemic and heightened geopolitical tensions, a new report has found. While more than 60% of firms with more than $5 billion in revenue experienced a major risk event in the past three years, 42% are not adequately prepared for such an event, according to an IBM study of 1,200 CFOs and senior financial executives across almost 80 countries. Yet the threat of a major risk event appears to be on the increase, with more than 30% of companies surveyed experiencing a strategic risk event and 34% being exposed to geopolitical, environmental and health risks.
Globalization has increased companies' overall risk exposure, yet IBM's study indicates that just over 50% of companies have formalized risk management, and only 32% have set specific risk thresholds for their businesses.
"Globalization currently presents, at the same time, one of the largest challenges and one of the greatest opportunities for global enterprises," Stephen Lukens, global financial management leader, IBM Global Business Services, comments in the report. But despite business becoming increasingly interconnected on a global scale, he says that companies have failed to integrate their financial operations. "Integrated operations alleviate the threats they face and improve the operational performance of their organizations," he adds.
IBM terms companies that are turning risks into rewards "Integrated Finance Organizations" (IFOs), which typically take an enterprise-wide view of risk based on common data definitions and processes. IBM's study found that IFOs outperform their peers when it comes to revenue growth. Over five years, for example, IFOs turned in average annual compound growth of 18%—substantially better than the 10% chalked up by non-IFOs.
IFOs, it seems, are also ahead of the game when it comes to managing risk. Sixty-six percent, according to IBM's study, formally manage risk, and more than 60% conduct routine management monitoring, compared with 49% for non-IFOs.
Anita Hawser