CANADA/UNITED STATES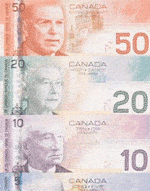 Piling up: The loonie posts record gains against the US dollar.

Record prices for Canadian commodities have combined with a surge in foreign investment, robust job growth and the US Federal Reserves recent interest rate cut to send the Canadian dollar on a growth spurt. Also known as the loonie for the swimming bird pictured on its one-dollar coin, Canadas currency edged above the greenback for the first time in almost 31 years. The loonie has since maintained parity with the dollar, and currency watchers say thats not likely to change anytime soon. Weve probably reached the peak in the commodity price cycle, says Michael Gregory, senior economist with BMO Capital Markets in Toronto. This is Canadas time to shine in the spotlight.
Since hitting an all-time low of $0.62 in 2002, the loonie has made a remarkable comeback. Red-hot demand from the United States and from the emerging economies of China and India for basic commodities such as aluminum, nickel, oil and wheat has lit a fire under the worlds eighth-biggest economy. But its currency has also been lifted by foreign direct investment in key resource sectors and by job creation. The International Monetary Fund predicts Canada will lead Group of Seven nations in economic growth in 2008.
Not all Canadians are pleased about their currencys newfound status. The manufacturing sector is having a hard time adjusting to a strong currency, particularly in the countrys industrial heartland of southern Ontario. And some contrarians predict parity with the US dollar will eventually push Canada into a recession.
How long can the plumped up loonie hold on? Gregory predicts it will lose as much as 10% of its value by the end of next year. An exchange rate of $0.92 to $0.94 is explainable, he says. The rest is speculative froth. Perhaps, but the global boom in commodities is sure to keep Canada and its currency in the spotlight for at least the foreseeable future (see Focus: Canada For Sale on page 43).


Erik Heinrich