GLOBAL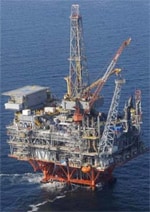 All at sea: Oil prices have tumbled, but further steep falls are unlikely.
Crude oil prices, which reached nearly $150 a barrel in July, fell below $100 a barrel for the first time in six months in mid-September, as market participants were preoccupied with increasingly gloomy global economic news. The slowing global economy was expected to curb demand for oil, but the Organization of Petroleum Exporting Countries was keeping a close watch on prices and could cut production if the price decline continues.
The bearish trend in oil prices was reinforced by the recent strengthening of the dollar, which has prompted the unwinding of hedged positions in commodities, according to a report by the economics department of Riyadh-based Samba Financial. "There now appears to be a consensus that there is plenty of oil around," the report says. However, spare capacity is limited, inventories are still relatively low, and risks of supply disruptions remain, it says.
The market remains exposed if supplies are disrupted in Nigeria or Iraq, or if geopolitical tensions rise again over Iran's nuclear program or Russia's incursion into Georgia, Samba says. Nigerian militants attacked oil facilities in the Niger Delta last month in the heaviest fighting in two years.
According to a report by the Asian Development Bank, the recent decline in oil prices will be short-lived, and fast growth in developing nations of Asia will keep prices elevated until at least 2020. "High oil prices are here to stay, and the sooner that developing Asia wakes up to this reality, the better," ADB chief economist Ifzal Ali said in a release.
The ADB report says the current oil price rise, which began in 2003, is different from the price surge in the 1970s, which was caused by temporary supply disruptions. This time, it says, suppliers have been unable to keep up with surging demand.
Gordon Platt