Mexico
By Antonio Guerrero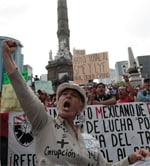 LFC workers protest against Calderón's actions
When Mexican president Felipe Calderón decided in October that the staterun LFC electrical utility had sapped resources for too long, to the tune of $3 billion in annual federal subsidies, he did not seek a political solution. Instead, he sent soldiers to seize the company, fired all 43,000 employees and ordered the Federal Electrical Commission (CFE), a larger state utility, to provide electricity. Some say he is just getting started.
Calderón liquidated LFC and vowed to pay workers some $1.5 billion in severance and pension payouts. Though members of the Mexican Electrical Workers Union (SME) responded with protest marches, 50% of respondents to a recent poll agree with the president's move and only 40% oppose it.
The government says LFC's chronic inefficiencies and operating losses led to high levels of customer complaints, while expenses per unit of power generated were 176% higher than CFE's. LFC's operating costs were nearly double its income. In addition to providing electricity for Mexico City's 25 million residents, LFC also serviced customers in parts of four central states.
Calderón promises that, despite the decision to shut down LFC, the company will not be put on the selling block. Opponents charge Calderón with union busting. However, the administration contends this is part of a broader strategy to curb inefficiencies at state-owned companies. If so, then the Pemex state-owned oil monopoly may be in the president's sights. Pemex has an unfunded pension liability of more than $36 billion, nearly equal to its longterm debt, while its payroll remains bloated at more than 143,000 workers. The country's largest oilfield produces a quarter of what it did in 2004.
Pemex sold $1.5 billion of bonds due 2017, priced to yield 5.62%, in September via Deutsche Bank and Calyon to finance a record investment plan. This could be the company's last chance to engineer a turnaround. And Calderón, who recently appointed Pemex's former financial chief Juan José Suárez Coppel as its new CEO while also calling for oil sector reforms, may have already fired a warning salvo.