GLOBAL
By Laurence Neville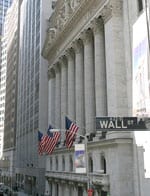 Perking up: The US market is showing signs of revival
Six months after global equity markets began a remarkable rally and a year since the global financial system almost collapsed, the IPO is back in markets from Shanghai to New York. According to Dealogic, a total of $28.14 billion was raised worldwide from IPOs by mid-August. Of that, China is the largest source of deals with 30 issues raising more than $13 billion.
At $7.34 billion, China State Construction Engineering's end of July float is the largest worldwide to date. (See EM roundup, page 10.) It gained 56% on the Shanghai stock exchange on its debut. In the same week as a smaller listing from toll road operator Sichuan Expressway rose 202%.
In second place in the IPO rankings is Brazil. While the only significant deal so far this year is June's IPO for Visa's Brazilian arm VisaNet, which raised $4.3 billion, other companies such as Banco Santander, which plans a $3.15 billion float of its Brazilian operation, are readying deals.
Meanwhile, the world's largest capital market, the US, has raised the third largest IPO total from a steady flow of medium-sized issues.
What China, Brazil and the US have in common is a perception by investors that their governments have demonstrated a robust response to tackling the crisis. In China, action to boost bank lending has shored up domestic demand in advance of major government infrastructure spending kicking in. Annual GDP growth reached 7.9% in the second quarter of this year compared to 6.1% in the first quarter.
Meanwhile, although Brazil slipped into recession in the last quarter of 2008 with an economic contraction of 3.6% followed by a contraction of 0.8% in the first quarter of this year, growth in the second quarter is expected to reach 2%. That's attributable to strong bank lending driven by government-owned banks.
Even in the US where there was criticism of the Obama Administration's early efforts to tackle the crisis it is clear that government action has been crucial in rescuing the economy. In an ironic twist, the ultimate symbol of the free market—the IPO—has been resuscitated most effectively in markets where government intervention was most extensive.