ASIA, MIDDLE EAST LEADING IPO THAW
BY GORDON PLATT
The level of initial public offerings has been at historic lows for nearly a year, but recent large IPOs in Asia and the Middle East have broken the ice, and a backlog of new issues could release a torrent of activity later this year.
"We expect the 'thaw' to be slow, and significant IPO activity may not return until late in 2009," says Scott Gehsmann, a capital markets partner at PricewaterhouseCoopers' transaction services group, based in New York.
"At the same time, the number of financial sponsor-backed potential issuers is at an all-time high," Gehsmann says. "As a result, when the equity markets recover, we expect a wave of companies seeking capital to pursue IPOs."
Technology and communications, business services, healthcare and industrial sectors will likely lead the way as the IPO markets recover in the US, according to Gehsmann. "We also anticipate more 'green' IPOs, as concerns with climate change and corporate social responsibility continue to grow," he says.
Funds raised through IPOs in China are expected to rise 47% to $22 billion in 2009, according to a report earlier this year by PricewaterhouseCoopers. As a result of government stimulus policies, sectors such as infrastructure, finance, consumer goods manufacturing and retailing will benefit, it said.
Zhongwang Holdings, China's largest aluminum-products manufacturer, raised $1.3 billion on the Hong Kong Stock Exchange in May, making it the world's largest IPO for the year to date. The company generates a large share of its business from the transport sector, including railways.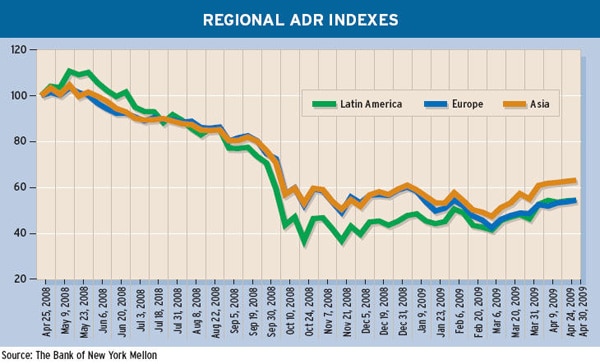 At least three more China-based companies are expected to list in Hong Kong in the near future. They include BBMG, a construction materials manufacturer; Bawang International, which makes herbal shampoo and other personal-care products; and Lumena, which produces sodium sulfate, a chemical used in the manufacture of detergents.
In the Middle East, Vodafone Qatar raised $1 billion in its IPO in April. Some 82,000 Qatari nationals purchased 65% of the shares, with the remaining 35% subscribed for by 273 institutional investors.
Saudi Arabia is expected to continue to lead IPOs in the Middle East region this year, according to a report by Shuaa Capital. "Signs of economic relief are likely to be the main driver for the Saudi market in 2009," says Mahdi Mattar, head of research and chief economist of Shuaa Capital. "Any indication of a possible recovery is expected to increase demand for oil and petrochemicals and put upward pressure on commodity prices," he says.
In the US, an IPO drought that began last November ended in February with the spin-off of Mead Johnson Nutrition, a baby-food manufacturer, from Bristol-Myers Squibb. The IPO raised $828 million on the New York Stock Exchange.
Changyou.com, an online game developer and operator based in China, raised $128 million in April in an IPO of American depositary shares on Nasdaq.
The best-performing IPO so far this year came from Arlington, Virginia-based Rosetta Stone, a producer of language-learning software. The company's shares rose 40% in their April 16 debut on the NYSE.
Meanwhile, Hutchison Telecommunications Hong Kong appointed Citi as depositary bank for its American depositary receipt program. The company, which operates in Hong Kong and Macau, was spun off from Hutchison Telecommunications International. The ADRs trade in the US over-the-counter market.
Deutsche Bank announced its appointment as depositary bank for the ADR program of Sirius Exploration, a UK-based holding company with interests in North America, China and Macedonia. In January Sirius acquired a 51% stake in Denver-based Dakota Salts, which holds mineral leases in North Dakota. It is considering using salt and potash caverns for the storage of natural gas and other hydrocarbons or for the storage of compressed air for electricity generation.