Just as the US Senate prepares to talk golf on Capitol Hill, one PGA exec is urging his fellow directors to "evaluate alternative sources of capital."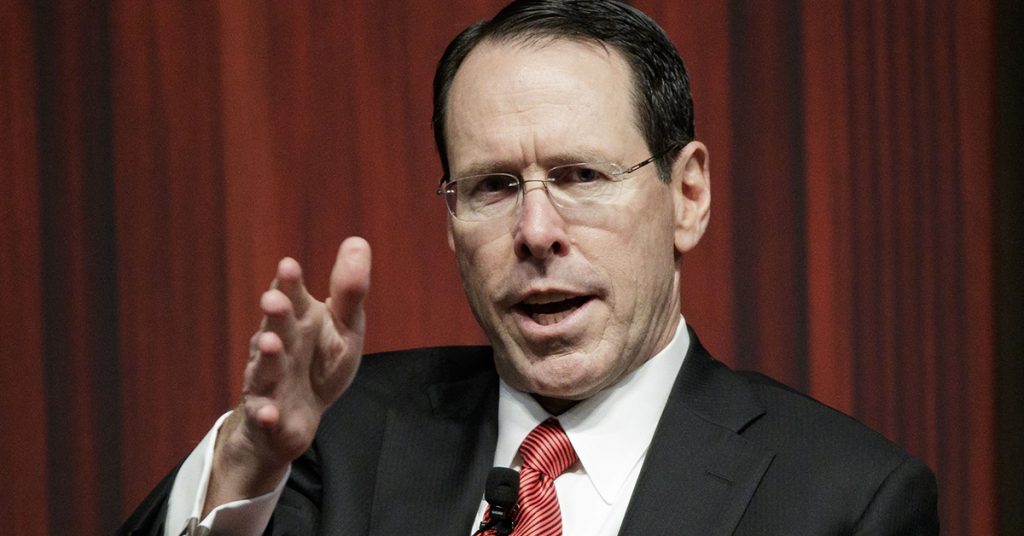 Randall Stephenson—a renowned dealmaker while he was the long-time CEO and chair of AT&T—is now the most vocal detractor of what is expected to be one of the biggest sports mergers in history.
Just days before representatives of PGA Tour appeared in front of a US Senate committee to defend their deal with Saudi-backed LIV Golf, Stephenson resigned from the PGA board in protest and penned a letter explaining why.
The transaction with Saudi Arabia's national wealth fund "is not one that I can objectively evaluate or in good conscience support," Stephenson noted in a letter dated July 8, citing US intelligence reports that journalist Jamal Khashoggi was killed in 2018 at the behest of Saudi Crown Prince Mohammed bin Salman. The crown prince has denied involvement.
Stephenson also hints that he was put off by the way the deal unfolded. Most of the board, he claims, was left out of all Saudi-related discussions.
When the transaction was first unveiled in June, LIV Golf brass—including CEO Greg Norman and COO Gary Davidson—didn't know about the merger until PGA commissioner Jay Monahan and Yasir al-Rumayyan, governor of Saudi Arabia's sovereign wealth fund, appeared on TV to discuss it.
Fellow PGA board member Jimmy Dunne, along with chief operating officer Ron Price, are believed to have been involved in the negotiations. The pair is expected to testify before Congress on Tuesday, July 11.
"I hope, as this board moves forward, it will comprehensively rethink its governance model and keep its options open to evaluate alternative sources of capital beyond the current framework agreement."

Stephenson's parting words, he urges his fellow board members to explore other options
As for what those options are, Stephenson doesn't say. Prior to LIV, the PGA Tour was notoriously averse to any sort of partnership or new competition. Recall how, in 1994, Norman and media mogul Rupert Murdoch tried to launch the so-called "World Golf Tour," backed by large, guaranteed paychecks. Golf legend Arnold Palmer rejected the idea, and the plan was nixed.
Meanwhile, the smaller, more independent promotions are chicken feed compared to the numbers PGA generates; between tournament revenue, global media rights, Tournament Players Clubs, corporate licensing and other investments, the PGA Tour has ballooned into a $1.5 billion enterprise.
One way to attain capital is through media partnerships. With the uptick in streaming services like Netflix and Apple, most of which are jockeying for sports content, PGA could license its media rights. Currently, it works with Warner Bros. Discovery in most European markets and Latin America. But in other markets, such as Asia, PGA Tour manages its own media rights exclusively, eschewing third-party involvement.
As for whether the PGA Tour will renege on its sale to Saudi Arabia remains to be seen. Stephenson's departure also provides a peak at how the 10-member board, which includes players Patrick Cantlay and Rory McIlroy, will vote on the deal. But dissenters are not expected. After all, such a lucrative deal is considered by individuals on both sides to be the best way to end the bitter legal spat that's been going on for nearly two years, in which LIV Golf poached PGA Tour players with exorbitant paychecks and signing bonuses.
Golf professionals aren't the only ones voicing opposition to the deal. Regulators, angry lawmakers and the US Department of Justice (DOJ) also have a say. Upon hearing about the Saudi deal, California Congressman John Garamendi almost immediately introduced legislation that would strip the PGA Tour of its tax-exempt status. Monahan "should be ashamed," Garamendi, a Democrat, recently said, promising to bring "much-needed accountability to this matter."
The DOJ will likely spend months scrutinizing the transaction. Should PGA/LIV receive a green light, the Saudis would essentially own nearly all professional golf tournaments going forward, with al-Rumayyan at the helm as company chairman.