PEPSI PUTS SOME FIZZ BACK IN M&A; MARKET
Merger and acquisition activity is returning to a semblance of normality, with a series of significant deals in industries other than financial services. While financing remains constrained, stock-swap transactions and cash deals are the order of the day.
BY GORDON PLATT
Snack and beverage maker PepsiCo made a cash-and-stock bid for its two biggest bottlers, PepsiAmericas and Pepsi Bottling, both of which promptly rejected the offer as being priced too low.
PepsiCo sued Pepsi Bottling in a Delaware court over the adoption of a poison-pill plan to block the merger, or at least to get a higher price. The suit claims Pepsi Bottling kept PepsiCo in the dark about the meeting at which the bottler adopted new executive compensation agreements and changed the company's bylaws to make a merger more difficult to achieve.
PepsiCo owns 33% of the outstanding shares of Pepsi Bottling and 43% of the outstanding shares of PepsiAmericas. It said that acquiring the remaining shares it did not already own in the bottlers would create a leaner, more agile business model.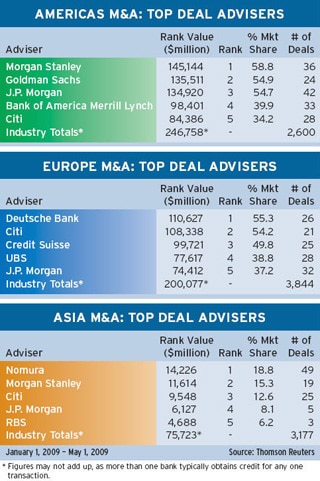 "Our operating environment has changed dramatically in the last decade," Pepsi chairman and CEO Indra Nooyi said in a statement. "Retailers have continued to consolidate. New companies have emerged. And non-carbonated drinks, which have different economics and different distribution systems than carbonated soft drinks, have become a much bigger factor in the industry and in our own portfolio," she said.
PepsiCo has offered 50% cash and 50% stock in the transaction. The offer represented a 17.1% premium to the market price.
Redwood Shores, California-based Oracle offered to buy Sun Microsystems, a maker of servers and storage equipment, for cash. Sun shareholders filed three separate lawsuits in an effort to halt the sale, which was valued at $8 billion.
In the US energy sector, Enterprise Products Partners planned to launch an unsolicited tender offer to acquire Teppco Partners, an owner and operator of gas pipelines, in a stock-swap transaction.
In another stock-swap deal, Jacksonville, Florida-based Fidelity National Information Services agreed to acquire Metavante Technologies, a Milwaukee-based provider of banking and payments technologies. The definitive agreement for Fidelity National to acquire Metavante valued the combined company at about $10 billion. The transaction will be structured as a tax-free reorganization, whereby Metavante will be merged with a newly formed subsidiary of Fidelity National.
Bloomfield, Michigan-based Pulte Homes agreed to buy Dallas-based Centex for $1.3 billion in stock, plus the assumption of $1.8 billion in liabilities. The acquisition would make Pulte the largest homebuilder in the US.
In Europe, a company formed by private equity firm CVC Capital Partners agreed to acquire iShares from Barclays Global Investors, in a leveraged buyout. Barclays agreed to sell the exchange-traded funds business to raise capital after it spurned the British government's asset-protection scheme.
The primary factors inhibiting global M&A; closings for 2009 include lack of funding and unattractive valuations to sellers, according to IMAP, an organization of middle-market M&A; advisory firms. Despite the economic downturn, IMAP advisers say they believe M&A; opportunities still exist in several industries, including industrials, energy and power, and consumer goods.
In its 2008 global transaction and pricing survey, released in May, IMAP said its advisers in Europe, the Middle East and Africa expect industry consolidation to be the primary area of opportunity for mergers this year, followed by exit strategies due to the health or age of business owners. Advisers in the US and Canada expect opportunities where financial leverage remains too high, followed by exits due to health and age. The survey included more than 500 advisers at 55 firms.