Global Equity /drs
Etihad Atheeb Telecommunication, one of three new fixed-line operators in Saudi Arabia, broke the long drought in initial public offerings in the kingdom, with an IPO for 30% of its capital.
The $80 million public offering, completed in early February, was the first IPO in the country since securities regulators halted new offerings in August 2008 amid unfavorable market conditions in domestic and global markets. Saudi Hollandi Capital was financial adviser, lead manager and underwriter of the Etihad Atheeb IPO.
Shareholders of Etihad Atheeb include Bahrain Telecommunications (Batelco) and private Saudi investors. The company is competing not only with state-owned Saudi Telecom but also with Optical Communications, in which Verizon of the US holds a 15% stake, and with Al-Mutakamilah, controlled by Hong Kong-based PCCW.
Numerous Saudi Arabia-based companies have delayed plans to sell shares recently, including fast-food chain Herfy, soft-drinks maker Aujan and Al-Ittefaq Steel Products. The Saudi stock exchange, Tadawul, which is the largest Arab bourse, lost more than half of its market value in 2008.
Etihad Atheeb plans to invest $1 billion over five years in its landline operation to provide services in industrial hubs and regions that are not adequately served by Saudi Telecom. The IPO, which was oversubscribed, followed the issuance of government rules on companies licensed to operate fixed-line networks. Etihad Atheeb's license permits it to provide various fixed-line and wireless services, including voice and data services, Internet and broadband services.
Meanwhile, in the US, an IPO drought that began last November ended in February with the spin-off of Mead Johnson Nutrition, manufacturer of baby formula Enfamil, from Bristol-Myers Squibb. As Global Finance went to press, trading had yet to begin on the New York Stock Exchange in shares of Mead Johnson, which raised $562.5 million in the largest IPO since April 2008. The Evansville, Indiana-based pediatric nutrition company could see the total size of the stock issue rise to as much as $690 million if the underwriters exercise their option to buy an additional 3.75 million class-A common shares. Citi and Morgan Stanley are leading the IPO.
Bristol-Myers Squibb would still own about 87.5% of Mead Johnson and retain 98% of its voting power following the IPO. For the first nine months of 2008 Mead Johnson had sales of more than $2 billion.
The last IPO to be priced in the US was that of Grand Canyon Education, which began trading on the Nasdaq Global Market on November 20, 2008. Grand Canyon ended what was then a four-month IPO drought.
Amid a general lack of new equity issues, depositary banks have continued to create unsponsored American depositary receipt programs for companies whose shares are already listed abroad. Between October 1, 2008, when the US Securities and Exchange Commission relaxed its listing rules for unsponsored ADRs, through the end of January, The Bank of New York Mellon alone created 540 such programs for trading in the US over-the-counter market.
On February 2 the bank announced five additional unsponsored ADR programs for the Bank of the Philippine Islands and four Poland-based companies: construction company Budimex, real estate services provider Echo Investment, oil and gas pipeline construction company PBG, and PKO Bank Polski.
On February 4 The Bank of New York Mellon announced unsponsored ADR programs for Australia-based sugar producer CSR, Belgium-based auto distributor D'Ieteren and Brazilian real estate construction company Camargo Corrêa Desenvolvimento Imobiliario. The bank also opened ADR programs for XinAo Gas Holdings, a Cayman Islands-based company that operates gas distribution pipelines in China, and for Singapore-based life insurer Great Eastern Holding.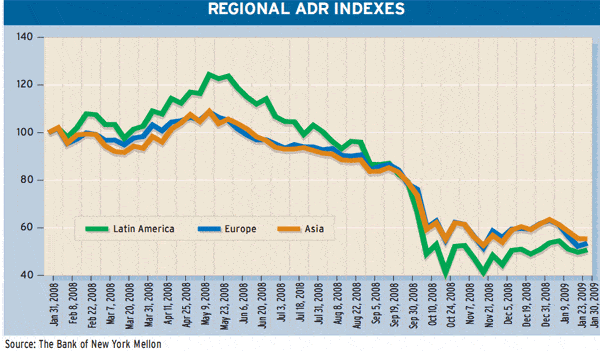 Gordon Platt