Latin American Companies Seeking US Takeovers

Companies based in Latin America are seeking to acquire US companies in order to buy into the fast-growing Hispanic market in the US, where 40.4 million Spanish-speaking people control $700 billion in purchasing power.
The US is the largest Hispanic market outside of Spain, says Jay Garcia, managing director of New York-based investment bank Samuel A. Ramirez.
With revenues of US-based Hispanic companies growing at an average rate of 20% a year, Latin American companies have come to realize that the best way to participate in this market is through corporate acquisitions, instead of just exporting their products, Garcia says.
Samuel A. Ramirez, which specializes in middle-market M&A; transactions, has been approached by a half-dozen Latin American companies recently that are actively seeking takeover targets in the US, Garcia says.
A rash of takeovers in the $300 million to $400 million range is likely in the months ahead, according to Garcia, who expects a flurry of cross-border activity in the banking, media and food sectors.
In November 2004 Mexico-based Editorial Televisa purchased a 51% stake in Hispanic Publishing, a Miami-based publisher of Hispanic and Hispanic Trends magazines.
While the dollar-value of the transaction was modest, the significance of the acquisition was in the fact that Televisa is positioning itself in the US market, where Hispanic media companies are consolidating, Garcia says.
Televisa, Mexicos leading broadcaster, also owns 11% of Los Angeles-based Univision Communications and supplies more than one third of its television programming.
Emilio Azcrraga, chairman and president of Televisa, has moved to the US, where he hopes to create a Hispanic media empire. In April 2005 Televisa agreed to acquire Colombias Editora Cinco, which sells magazines for the US Hispanic market.
Meanwhile, major US and Spanish banks are making big pushes into the Hispanic market. Last September, Spains BBVA purchased Texas-based Laredo National Bancshares for $850 million. Texas is second to California in Hispanic population among US states.
Bank of America, which purchased a 24.9% stake in Mexico-based Santander Serfin in 2003, eliminated transfer fees earlier this year for account holders sending money to Mexico. More than half of the Latinos in the US are Mexicans, and they sent $14.5 billion of remittances to Mexico in 2004.
The banks want to capture the remittance flow in order to win Hispanic customers who are already settled in the US, Garcia says, They want to do business with those consumers, he says.
Citigroup, which owns Banamex, offers a bi-national credit card that can be paid off on either side of the US-Mexico border. The card is marketed in California by Commerce Bank, a unit of Banamex.
US financial services companies also are continuing to make large purchases in Latin America. GE Consumer Finance agreed in May 2005 to acquire a 49.99% stake in Panama-based BAC International Bank, one of the largest banks in Central America, for an estimated $500 million.
In the food sector, Mexico-based Grupo Bimbo has been acquiring bakeries in US states with large Hispanic populations. Its US operations now comprise 17 plants and account for 18% of its $3.3 billion in annual revenue. Another Mexican company, Gruma, is the largest US tortilla producer, with 13 packaging facilities, five corn-flour plants and 5,000 US employees. Grupo Gigante, Mexicos third-largest supermarket owner and operator, is expanding in California.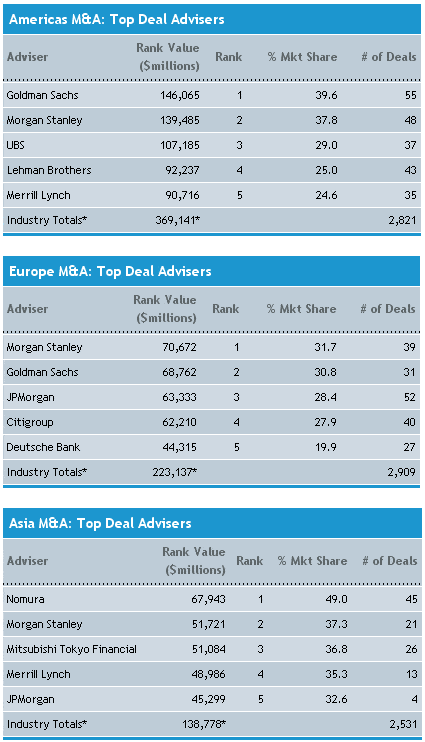 January 1, 2005 May 1, 2005 – Source: Thomson Financial Securities
* Figures may not add up, as more than one bank typically obtains credit for any one transaction.

Top Mergers and Acquisitions (April 1, 2005-May 1, 2005)



Gordon Platt