Mergers & Acquisitions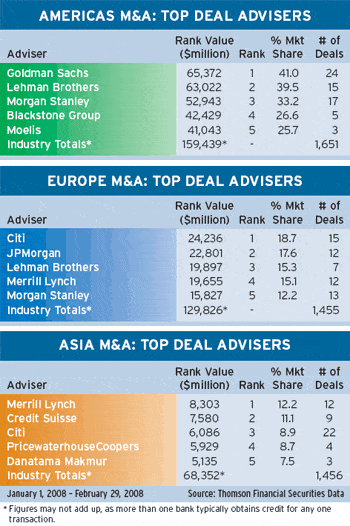 HDFC Bank and Centurion Bank of Punjab have agreed to the biggest merger in Indian banking history, valued at about $2.4 billion. It is likely the beginning of a wave of M&A; deals in the financial services industry, as India prepares to ease restrictions on bank ownership in 2009.
As Indian banks beef up to meet the anticipated competition in the fast-growing economy, they are seeking greater scale and geographical reach. They also desperately need experienced staff to expand their services. Centurion Bank of Punjab will provide all of the above to HDFC Bank. The combined entity will have a nationwide network of 1,148 branches, the largest of any private sector bank in India.
For the past decade, a series of finance ministers have urged consolidation of the Indian banking system to create financial institutions big enough to compete in global markets. State Bank of India, the country's biggest bank, already has announced that it plans to merge some of its seven associate banks, to the dismay of some politicians and unions. More than half a million Indian bank employees held a one-day strike on January 25 to protest against proposed mergers between state-run banks. A planned two-day strike in February was called off after the Indian Banks Association and the unions agreed to hold discussions aimed at settling the dispute.
After the merger, HDFC Bank will be the third-largest bank by assets in the country, trailing State Bank of India and ICICI Bank. India has more than 80 commercial banks, including 29 foreign banks, as well as thousands of cooperative banks.
"HDFC Bank was looking for an appropriate merger opportunity that would add scale, geography and experienced staff to its franchise," says Deepak Parekh, chairman of HDFC. "This opportunity arose, and we thought it is an attractive route to supplement HDFC Bank's organic growth."
Rana Talwar, chairman of Centurion Bank of Punjab, says, "I believe that the merger with HDFC Bank will create a world-class bank in quality and scale and will set the stage to compete with banks both locally as well as on a global level."
HDFC Bank plans to expand overseas and already has acquired a license for a branch in Bahrain. This is one area where Centurion Bank of Punjab's expertise in international markets could help the larger HDFC. Oman's BankMuscat is the largest shareholder, with a 14.3% ownership of Centurion on the Bombay Stock Exchange and 3% through global depositary receipts listed in Luxembourg. The shares will convert into about 3% of HDFC following the takeover.
Talwar, who began his career with the Bombay branch of Citibank, is a former group CEO of Standard Chartered Bank and has considerable international experience. He will be joining the new HDFC Bank board.
Under Talwar's leadership, Centurion Bank developed a pan-Indian franchise. It first acquired the Indian branch of BankMuscat, which it followed up with a merger with Bank of Punjab. In August 2007 it acquired Lord Krishna Bank, which further extended its reach into the south of India, especially in the state of Kerala.
Centurion Bank of Punjab now has 394 branches and 7,500 employees. Its operating profit for the final three months of 2007 was up 108% from the same period a year earlier. The bank's loans increased by 60% from a year earlier in the fourth quarter, while its lending to small and mid-size enterprises rose by 141%.
Housing Development Finance, India's biggest mortgage company, will invest $1 billion in HDFC Bank to keep its stake at 23% after the takeover, but it has no plans to merge with HDFC.




Gordon Platt