Israeli Companies List On London Exchange

When Frutarom Industries, an Israel-based producer of flavors and ingredients for food and beverages, launched its initial public offering in February, it chose to list its global depositary receipts on the London Stock Exchange instead of in the US.
The companys underlying shares trade on the Tel Aviv Stock Exchange.
Historically, most Israeli companies venturing into global markets have listed their shares on Nasdaq, but the LSE has been making inroads in the past year with a half-dozen Israeli listings.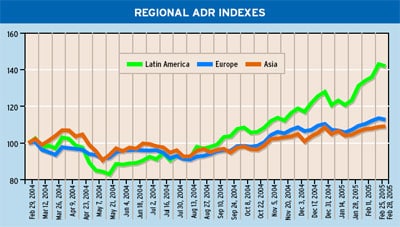 Frutarom Industries is the first large Israeli industrial company to seek a listing in London, according to lawyers at White & Case, which represented the company in its IPO. Adamind, a media software provider, recently became the second Israeli company to list in London this year.
Israel is Nasdaqs largest market in terms of listings of companies based outside of North America. The electronic exchange currently trades shares in 73 Israel-based companies.
Nasdaq and the LSE both have sent teams of senior officials to Israel in recent months to drum up interest from Israeli companies, particularly those in the technology sector.
LeadCom Integrated Solutions, an Israeli provider of wireless networks, plans to list in London this month.
While focusing their campaign on Londons AIM, or alternative investment market, LSE officials are encouraging Israeli companies to seek listings on Londons main market as well.
In the case of Frutarom Industries, the companys GDRs also were made available to qualified institutional investors in the US pursuant to Rule 144A.
Frutaroms offering comprised both a sale of new shares by the company as well as secondary sales by its majority shareholder, the ICC Group, for a total of $91.5 million.
JPMorgan Chase was appointed successor depositary bank by Sweden-based Volvo for its Nasdaq-listed American depositary receipt program.
Volvo makes commercial transportation products, including trucks, buses and construction equipment, as well as marine and industrial engines and aerospace components.
One ADR is equivalent to one ordinary share. Good recognition in external markets is crucial to any ADR program, and a depositary bank can play a key role in this, says Patrick Colle, global head of ADRs at JPMorgan.
The bank is the leader in reported ADR market capitalization, with $145 billion in institutionally held ADR assets, he says. This translates into $657 million in ADR investment per client program.
JPMorgan is establishing an investor-relations advisory unit to help issuers to attract and retain investors. Colle says the unit will help the corporate issuer to communicate its investment thesis to the market and will be charged with delivering measurable results.
The bank sees strong trends remaining in place that favor continued interest in ADR trading liquidity, such as a growing global economy, reviving corporate profitability, and dollar weakness.
For 2005 we expect Asian issuer capital raising to again dominate the DR offerings, particularly those companies linked with the privatization trend and growth associated with Greater China, Colle says.
The bank is also optimistic that Brazil-based issuers will be active in the ADR capital markets. We also anticipate renewed interest in issuers using ADRs as acquisition currency for US companies, given the relative buying power of non-US currencies, Colle says.
Asian companies may soon join European companies as users of ADRs in stock-swap acquisitions, particularly as Japan will soon allow its companies to issue ADRs for takeovers, Colle adds.
Meanwhile, Bank of New York established a Level-I ADR program for Australia-based Austal, which makes high-speed passenger and vehicle ferries and military vessels. It has shipyards in Perth, Australia, and in Mobile, Alabama.

Gordon Platt