MERGERS & ACQUISITIONS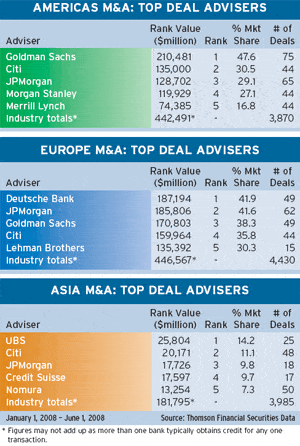 The agreement announced last month by Verizon Wireless to buy rural cell phone service provider Alltel for $5.9 billion in cash and $22.2 billion in debt did more than create the biggest mobile-phone company in the United States. The transaction helped major banks remove from their books another large chunk of debt from the buyout boom of the past two years, helping to clear the way for eventual new lending.
According to independent research firm CreditSights, based in New York, the backlog of loans from the leveraged buyouts (LBOs) of 2006 and 2007 has been reduced to $77 billion from a peak of $230 billion last year. Private equity firms have bought some of the loans at a discount, and other LBO loans have disappeared as a result of deals being abandoned.
The banks that financed last year's buyout of Little Rock, Arkansas-based Alltel by private equity firms TPG Capital, based in Fort Worth, Texas, and Goldman Sachs' GS Capital Partners have gotten nearly all of their money back. Verizon will use its good credit rating to refinance the Alltel debt and repay $13.8 billion on Alltel's term loans at full value.
The Alltel LBO was the biggest ever in the telecom industry and was financed with loans from Citi, Barclays, Royal Bank of Scotland (RBS) and Goldman Sachs.
Alltel CEO Scott Ford says a major impetus for the sale of the company was the inability of banks that financed last year's LBO to sell notes to investors because of the credit crunch that followed the deal's announcement. He told reporters in Little Rock that Verizon bailed the banks out of the debt and that the private equity investors made about a 30% return on their equity.
Morgan Stanley acted as financial adviser to Basking Ridge, New Jersey-based Verizon Wireless on the acquisition, while Citi, Goldman Sachs and RBS advised the sellers on the transaction.
The deal catapulted Verizon Wireless, which is 45% owned by Vodafone of the United Kingdom, past AT&T; to create a cell phone company with 80 million customers. That pales in comparison, however, with the 400 million customers of China Mobile, the world's biggest carrier. China recently announced a plan to merge the country's phone companies into three large groups ahead of issuing licenses for next-generation services. It is hoping to create more competition for China Mobile, which was given the go-ahead to purchase China Railway Communication. China Telecom will buy a mobile network from China Unicom, and Netcom will get the rest of Unicom. China Telecom will also take over China Satellite Communications. Foreign companies are not allowed to compete in China's telecom market.
In Europe, France Télécom last month made an unsolicited offer to buy Sweden-based TeliaSonera for $42 billion in cash and stock in a bid to become Europe's biggest telephone company. The combined company would have 237 million subscribers, of which 168 million would be mobile-phone users and 69 million would be fixed-line customers. Deutsche Telekom is now the biggest European telecommunications company, followed by Telefónica, the leading operator in the Spanish- and Portuguese-speaking world. TeliaSonera rejected France Télécom's bid, saying it would be far below the company's value.
Telkom South Africa, with a market value of $10.3 billion, said it received a takeover offer from Mvelaphanda Holdings, South Africa's leading black-owned industrial group. Vodafone, the largest European mobile operator, said it wanted to acquire control of South Africa-based wireless operator Vodacom, of which it already owns 50%.





Gordon Platt