MERGERS & ACQUISITIONS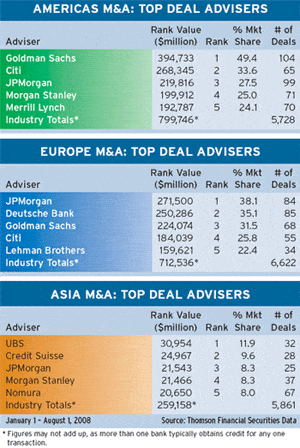 Midland, Michigan-based Dow Chemical forged an unusual alliance of bankers and investors to finance its $18.6 billion acquisition of specialty-chemicals maker Rohm and Haas. Warren Buffett's Berkshire Hathaway and the Kuwait Investment Authority, a sovereign wealth fund with deep pockets, chipped in a total of $4 billion for convertible preferred securities. Citi, Merrill Lynch and Morgan Stanley, which acted as financial advisers on the transaction, provided debt financing.
Despite the continued slowdown in the debt-finance markets, global law firm White & Case says it is advising on five deals with a combined value of more than $27 billion that will be financed with debt. White & Case is the leading global legal adviser to debt providers on leveraged buyouts.
"Although the volume of debt-financed deals has dropped considerably from previous years, White & Case continues to advise on some of the largest transactions in the current market," says Eric Berg, partner and head of the firm's global bank finance practice. He attributes this in part to the fact that White & Case has a worldwide platform that gives it a competitive edge in the global economy.
"This worldwide platform enables us to offer clients the support they need to get these deals done," Berg says. In addition to representing the investment bankers in the debt financing for Dow's acquisition of Philadelphia-based Rohm and Haas, White & Case is advising Deutsche Bank, Credit Suisse and JPMorgan in connection with the provision of debt facilities to Germany-based healthcare group Fresenius, which is seeking to acquire APP Pharmaceuticals, a US-based manufacturer of intravenous drugs, for $3.7 billion.
White & Case is also representing Goldman Sachs in connection with the provision of senior leveraged financing to a consortium including Central European Distribution and Lion Capital for the purchase of Russian Alcohol, the largest vodka producer in Russia.
Earlier this year Buffett's Omaha-based investment manager, Berkshire Hathaway, offered $4.4 billion of subordinated debt to fund the purchase of Wm. Wrigley Jr., the biggest maker of chewing gum, by candy-maker Mars. Berkshire Hathaway also agreed to purchase a $2.1 billion minority equity interest in the Wrigley subsidiary once the deal was completed.
The acquisition of Rohm and Haas will make Dow the world's leading specialty chemicals and advanced materials company. Dow agreed to pay a termination fee of $750 million to Rohm and Haas if it walks away from the deal. Family-owned Rohm and Haas, in turn, will pay Dow $600 million if it changes its mind about the all-cash deal, which provides for a hefty 74% premium.
The investment of $1 billion in Dow convertible preferred securities by the Kuwait Investment Authority did not come as a complete surprise. Last December Dow announced a joint venture with Kuwait's Petrochemical Industries, a subsidiary of state-owned Kuwait Petroleum, to make plastics used in a wide range of products, such as milk jugs, packaging materials, pipes and automotive parts. Dow agreed to sell a 50% interest in five of its global businesses to the Kuwaiti company for about $9.5 billion for the joint venture, known as K-Dow Petrochemicals. The joint venture will be based in the United States and will be staffed mainly with current Dow employees.
Dow said in a release that the acquisition of Rohm and Haas was a decisive step toward establishing Dow as an earnings-growth company by shifting the balance of its portfolio toward higher-growth, higher-margin specialties businesses.



Gordon Platt